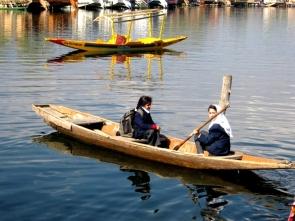 Hard-line Hurriyat Conference chairman Syed Ali Shah Geelani has asked Kashmiris to desist from allowing people from outside Jammu and Kashmir to stay with them as tenants.
"Kashmiris should not rent out parts of their houses to outsiders (those hailing from other states of the country)," Geelani said today.
The Hurriyat hawk said he was not against renting out premises to non-Kashmiris but outsiders and the locals should not live under the same roof.
He was apparently referring to the conversion of residential houses into guest houses during the peak tourist season and the influx of non-Kashmiri labourers.
More than two lakh non-Kashmiri labourers -- mostly from Bihar, Jharkhand, West Bengal and Orrisa -- arrive in the valley every year in March, at the beginning of tourist season. They return to their states by late October.
They are attracted to Kashmir as the daily wages for unskilled labourers are as high as Rs 400 per day.
He said the annual Amaranth Yatra is simple a religious ceremony and Hurriyat has never challenged or opposed it.
"However, India has politicised it (yatra) for its political and military objectives. The Amarnath Shrine Board has emerged as a 'state within the state' and the increase in the number of yatris up to nine lakh has affected the environment, forests and water resources," Geelani said.