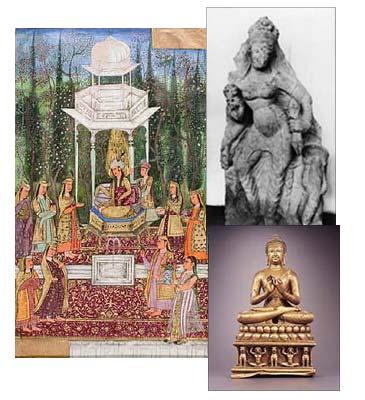 Rare Kashmiri art works, including sculpture, painting and calligraphy from the second to the 20th century, are on display at a three-month-long exhibition in New York.
Named 'The Arts of Kashmir', the exhibition that started on October 3 and will run till January next year comprises works of Buddhist, Hindu and Islamic art, including those loaned from collections in the US, Europe and India.
The event is organised by the New York-based Asia Society, a pan-Asian body working to promote understanding among people and institutions of Asia and the US.
"Many of the objects have never been seen outside of India, in some cases they have never been exhibited or published anywhere," the organisers said in a statement.
Believed to be the first-ever major exhibition devoted to the rich artistic tradition of Jammu and Kashmir, 130 art objects are on display.
One of the oldest pieces on display is a 4th century terracotta tile depicting ascetics and birds excavated from Srinagar suburb Harwan, a site associated with Buddhism.
To provide a sense of the state's broad artistic contributions, the exhibition includes examples of stone and bronze sculptures and manuscript paintings, in addition to the fine examples of carpets, shawls and embroidery for which Jammu and Kashmir is renowned.
"The Arts of Kashmir exhibition aims to increase understanding of the historic artistic importance of the Kashmir Valley and the important role of the region in the development of intellectual life in South Asia," said Asia Society Museum director Melissa Chiu.
"Understanding Kashmiri cultural heritage is crucial for all of us in today's world, especially because it tends to be overly simplified in much of the current reportage," Chiu said.
Museum curator Pratapaditya Pal, said the exhibition "tells the story of generations of Kashmiris who excelled in producing art in a wide variety of media, not only the shawls that have become almost synonymous with Kashmir."
The antiques will be arranged chronologically, with works dating from Kashmir's beginnings as an important centre for Hindu and Buddhist practice.
A large limestone 7th century sculpture of Hindu goddess Indrani -- with distinctive Kashmiri features, elongated body and typical dress -- is another attraction.
The exhibition also includes an elaborately wrought ninth century bronze mandala of Lord Vishnu mounted on Garuda and depicted with four goddesses.
A stunning array of bronze Buddhist sculptures, including a 10th-century brass Buddha, on loan from the Cleveland Museum of Art, will also be displayed.
A stele with a Persian inscription, one of the early Islamic pieces, will represent the Muslim period during which arts, architecture, literature, and music received extraordinary patronage in Kashmir.
A number of lectures and discussions related to art and sculpture in Jammu and Kashmir will also be held during the exhibition days.
Text: PTI | Photograph courtesy: Asia Society