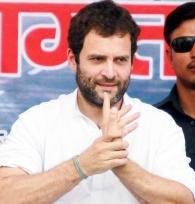 While addressing a political rally in Mandya in poll-bound Karnataka, Congress Vice President Rahul Gandhi on Wednesday said that he wanted more youth to join the party.
Attacking the ruling Bharatiya Janata Party, Gandhi said there was a time when Karnataka was considered a progressive state.
"The sweat of the farmers has built the state. Sadly, in the last five years, all that has vanished," he said.
"We are running a government at the Centre and you know how we run it. We have done a lot for Karnataka. We have created jobs under the National Rural Employment Guarantee Act scheme. We have given 60 thousand crores to the farmers who have given our country their sweat and blood," he said.
The Gandhi scion added, "We want to wipe out corruption. It is important that we change the political scenario. We need to bring in more youth into politics for that".
Continuing the BJP bashing, he said, "The BJP spoke about corruption in Parliament. But they don't speak about Karnataka -- a state which saw a chief minister go to jail on corruption charges. The same leaders who were responsible for corruption go around campaigning in the state today".
"We want to provide a clean administration in Karnataka. You need to vote for a government which will ensure that the state's glory is restored," Gandhi said.