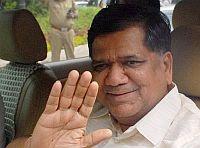 Karnataka Chief Minister Jagadish Shettar is optimistic about the Bharatiya Janata Party's chances in the forthcoming assembly elections.
Shettar claimed that political anaylsts would be taken by surprise once the results are announced.
"I am not saying this just because I am a BJP leader, but I am confident that my party will do well. We are expecting to win over 120 seats," he said.
Without naming former chief minister B S Yeddyurappa, Shettar admitted that many leaders had left the party acrimoniously in the last five years and given it a bad name.
"That is the past now and there is no point in lamenting. We need to move forward. Our aim should be to do well and serve the people," he said.
"I know the people remember us for a lot of wrong things. Certain things have taken place but we have rectified those problems. I am sure the people will forgive us if we seek their mercy," Shettar said.
On the steps he will take if the people vote the BJP back to power, he said, "I am confident of providing them with a clean government. There shall be no hiccups. The various issues that plagued the government last time will not find any place in my government this time".
Shettar claimed that Yeddyurappa's exit would not make much of a difference to the party.
"No single person can affect a party with such an ideology and with so much history. The party will survive no matter what and the election results will prove me right," he said.
"Our agenda during the elections is not to target any particular person. We will focus on the future of the state. Good governance will be the key during our campaign. Not only me but my predecessor Sadananda Gowda also provided clean administration. This is what the people will remember us for," he added.