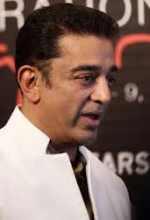 The release of Kamal Haasan's 'Vishwaroopam' in Tamil Nadu has been deferred till January 28 by the Madras high court, which on Thursday declined to stay the two-week ban imposed by the state government on the film's screening.
The court fixed January 26 for a preview of the controversial movie which has stoked strong protests from Muslim outfits.
The film, which is to be released on Friday in the country and abroad, is a spy thriller starring Haasan in the lead alongwith Rahul Bose, Pooja Kumar and Jaideep Ahlawat.
The interim injunction sought by the petitioner, actor-filmmaker Haasan, was not granted for the present, Justice K Venkataraman ruled during the hearing of the actor's plea challenging last night's ban on the the multi-lingual film, slated for release on Friday.
"Whether the film has got any scenes affecting the sentiment of the people, who have given complaint, or not could be decided only after viewing the film," he said observing that the release could be postponed till January 28.
"Now, considering the fact that the Republic Day is to be celebrated on January 26, the petitioners can postpone the release till January 28," the judge said, adding that the court could view the film on January 26.
Citing law and order problems following stiff opposition from Muslims over the alleged portrayal of their community in a negative light in the mega-budget film, the state government had directed the district collectors to invoke relevant legal provisions to ban the screening for 15 days.
Noting that the postponement of the release of the film, "no doubt will cause not only mental agony to the petitioners but also a loss to them monetarily," the judge said, "The interest of the people at large that too during Republic Day has to be viewed more than that."
Hearing the matter for more than two hours, the judge observed that he had not formed any opinion and had not come to any conclusion about the merits and demerits of the case, which would be decided after viewing the film and after hearing the parties at length.
"Therefore, without granting any interim relief, I am posting these writ petitions to January 28," he said.
He also made it clear that video piracy of the film shall be strictly curtailed, so that it may not cause loss to the petitioners and to the theatre owners.
In his petition, Kamal Haasan contended that once the film had been certified by the censor board, the state had no powers to impose a ban.
Justifying the ban, state Advocate General A Navaneetha Krishnan argued that the petition was not maintainable since the affected parties were only the theatre owners and not the petitioner.