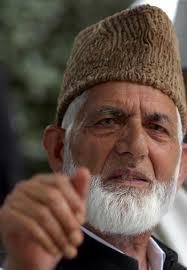 Hardline Hurriyat Conference leader Syed Ali Shah Geelani on Thursday threatened to launch an agitation after Eid against the plans to construct a road to Amarnath shrine in south Kashmir.
"The state government has remained a mute spectator and it did not even defend the case in the Supreme Court. We will launch an agitation after Eid-ul-Azha if the plans are not shelved," Geelani told reporters in Srinagar.
The Supreme Court has directed the state government to provide facilities including improved road to the Amarnath cave.
Geelani said the ecology of Kashmir was being put at risk under the garb of the Supreme Court ruling.
Condemning the attack on 14-year-old Pakistani girl Malala Yousafzai by Taliban, Geelani termed such acts as un-Islamic and inhumane. "We condemn the attack on Malala. Islam does not allow killing anyone for his or her ideology," Geelani told reporters.
The octogenarian separatist also lashed out at the Pakistani Taliban for "maligning" the face of Islam in Pakistan. "What they are doing in Pakistan is wrong. Banning education for girls is condemnable. This is not right," Geelani said.

Referring to Kashmiri Pandits as brothers, Geelani said they are always welcome in the Valley, but they should settle only at their ancestral places and not at the separate settlements. "Why should they live at separate settlements? They have houses, they were born there, have land and property at their ancestral places. The government should rebuild their houses and they should live there," Geelani said.