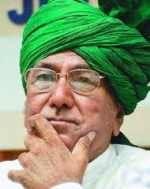 The Central Bureau of Investigation on Tuesday on Tuesday contended before the Delhi high court that former Haryana Chief Minister O P Chautala was the "main conspirator" in the junior basic trained teachers' recruitment scam of 2000.
Opposing the bail plea of Chautala, jailed for 10 years in the scam, Solicitor General Mohan Parasaran, who argued for the CBI, submitted before Justice Mukta Gupta that Chautala was "the main conspirator and others (accused) had followed his instructions."
Referring to the trial court findings against Chautala, the senior law officer said soon after Chautala became the CM in July 1999 and had simultaneously taken over the additional charge as Education Minister, the conspiracy had begun with the cabinet meeting under his leadership.
He argued that in September 1999, the cabinet led by Chautala had taken the decision to take away the recruitment process from the purview of Haryana staff selection commission and it was handed over to the directorate of primary education for the recruitment through district-level selection committees.
The previous government in the state had taken the initiative for largescale recruitment of JBT teachers and the work was assigned to HSSC, he added. Parasaran also contended the issue was not on the agenda but the cabinet had taken the decision.
On January 22, the trial court had convicted and sentenced Chautala and nine others to ten years jail-term for illegally recruiting 3,206 junior teachers in 2000.