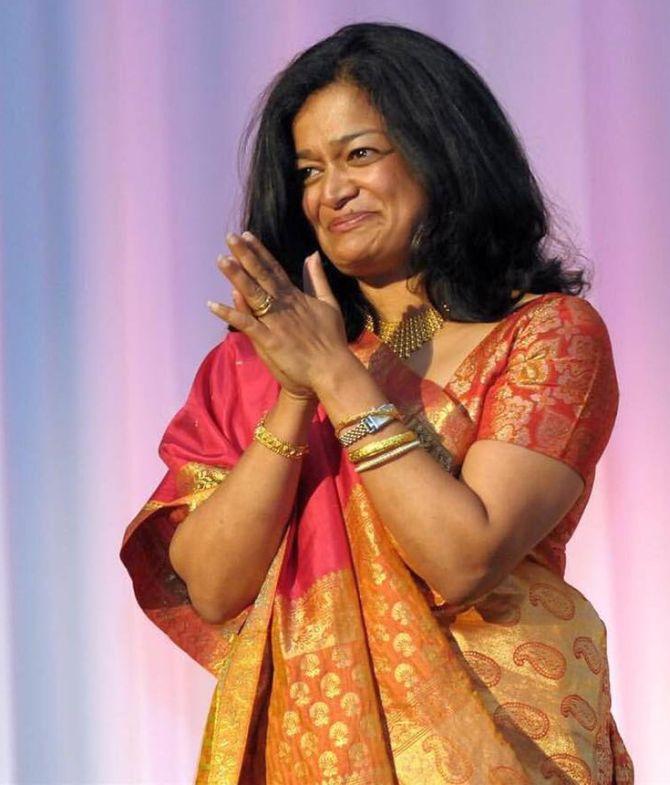 Indian-American Congresswoman Pramila Jayapal on Saturday made a last minute effort to challenge Donald Trump's presidency as she surprised everyone by trying to raise last-gasp objections against him during a joint session of the US Congress to formally put its seal of approval on the presidential elections.
The attempt by Jayapal, a first-time Congresswoman who was elected from Seattle in the general elections, was shot down by an irked Vice President Joe Biden, who told her that it was all over.
Biden was chairing the session of the Congress when lawmakers met to formally approve the electoral college victory of Trump.
As per the last count, Trump has 304 electoral college votes as against 227 of his Democratic rival Hillary Clinton.
As the joint session of the Congress was in progress, Jayapal in an unusual move and breaking the tradition stood up, making Biden to ask "for what purpose does the gentlewoman rise?"
"Mr President, I object to the certificate from the state of Georgia on the grounds that the electoral votes were not," Jayapal said as she was cut-off mid-way by the vice
president with the gavel.
"There is no debate," Biden said and reminded her of the rule book that he has not received any such objection in writing from her and also it was not signed by any senator.
She acknowledged that it has not been signed by any senator. Unperturbed, Jayapal continued with her speech.
"Mr President, even as people waited hours in Georgia," she said, as Biden interrupted again by slamming the gavel.
"There is no debate," he said, as the Indian-American Congresswoman insisted to speak.
"It is over," Biden said as the house erupted in a laughter including the House Speaker Paul Ryan.
Later Jayapal defended her decision to break the rule book.
"One of my greatest worries about a Trump presidency is numbness. I am worried that the American people are constantly bombarded with shocking, racist, sexist remarks and tweets -- and that all the hatred Trump spews will slowly become the new normal," Jayapal said.
Jayapal told her supporters that she took to the floor of the US House of Representatives and made one last attempt to challenge Trump's presidency.
"When I stood up, I knew nothing I could say would undo the presidential election," she acknowledged.
"But I felt it critical that the American people saw that we know how democracy has been undermined and votes have been suppressed. I raised my voice to show you what we progressives are going to do for the next four years. We're not going to stop being shocked. We're never going to become complacent. And we're never going to give up," Jayapal said.
In an interview, she wished that Biden could have allowed her to speak.
"It was really important, from my personal perspective, for the American people to know we understand the issues with the way this election happened," Jayapal was quoted as saying by The Seattle Times.