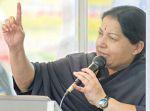 Alleging continued killing and harassment of Indian fishermen by Sri Lankan Navy, Tamil Nadu Chief Minister J Jayalalithaa urged the Supreme Court to expeditiously hear its petition challenging the Centre's 1974 decision to cede Kachatheevu Island to the island nation.
"It is therefore just and necessary that the instant writ petition is heard at an early date. Grave prejudice and irreparable loss and hardship would continue to be caused to the fisher folk of Tamil Nadu whose lives and liberty to carry on their occupation are in danger with every passing day," she said in her application through counsel Srikala Gurukrishna Kumar.
Under an agreement reached on June 26, 1974, between the two countries, India agreed to cede its rights on Kachatheevu Island to Sri Lanka. By another agreement, India also agreed to cede its fishing rights in the island area.
On January 5, 2009, the apex court had issued notice to the Centre on Jayalalithaa's petition challenging the two agreements "as unconstitutional and non-est" and had sought a direction to ensure all measures to protect the life and livelihood of the Indian fishermen carrying on fishing activity around Kachatheevu.
In its fresh application, the state government said a large number of fishermen from Tamil Nadu had been killed or caught by the Lankan Navy while they were fishing in the area.
Jayalalithaa claimed that she had also written as many as 11 letters to Prime Minister Manmohan Singh after the AIADMK assumed power in May 2011.
Kachatheevu was a small barren uninhabited island of an extent of 285 acres in the Palk Strait off Rameswaram, a part of Ramanathapuram district, before it was ceded,
Jayalalithaa said and complained that the Centre did not consult the State before ceding it to Sri Lanka.