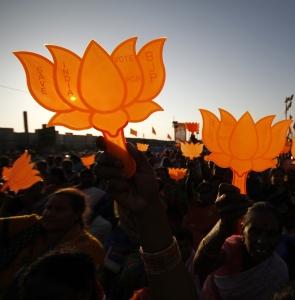 In a furious post on his blog, senior Bharatiya Janata Party leader Arun Jaitley on Tuesday slammed the Congress for allegedly using the excise department to impose a tax on the mammoth rallies addressed by the saffron party's prime ministerial candidate Narendra Modi.
The Directorate General of Central Excise and Intelligence has decided to levy a service tax on Modi for allegedly charging a nominal entry fee for those wishing to attend such rallies, Jaitley said, and attached a scanned copy of the notice from the department.
In a letter issued to the BJP's office in Chandigarh on February 12, the department has noted that since the event was not for entertainment or amusement, 'the same is taxable in the hands of the person collecting the amount of tickets'.
'It appears that the BJP/Shri Narendra Modi has (sic.) neither got registered under the Service Tax nor paid tax on collection from tickets,' it adds.
The excise department has asked Modi to furnish the details of 'alleged entry tickets' to the rally for 'calculation of service tax payable'.
Incidentally, the Chandigarh unit of the BJP has not organised any rally by the Gujarat chief minister yet.
Jaitley alleged that this was the latest desperate ploy by the Congress to counter Modi.
"Narendra Modi is indeed a problem for the Congress Party. It is precisely for this reason that the Congress/UPA (United Progressive Alliance) has used every method, fair or foul to counter him. They are still at sea how to deal with him.
"The UPA government has now invented a new curious method, which it hopes can tackle him. Absurd as it may sound, they now propose to tax Modi's rallies. Considering the mammoth crowds who gather to listen to Narendra Modi all over the country, this can be the finance minister's faint hope of augmenting his otherwise depleting revenue," said Jaitley.
Click here to read the Excise Department's notice to the BJP