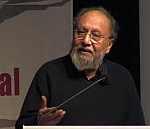 The Jaipur police on Tuesday issued a notice to sociologist Ashis Nandy asking him to appear before it in connection with his controversial remarks against Scheduled Caste and Scheduled Tribes at the Jaipur Literature Festival.
Jaipur Literature Festival producer Sanjoy Roy is also likely to be questioned by poice today.
"We served summons to the organiser but he was busy with the event so he could not turn up yesterday but has been called for further investigation," a police officer said.
"We will also record the statement of the complainant Rajpal Meena," he said.
The officer said notice has been issued to Nandy and police would record his statement.
Additional Commissioner of Police Biju George Joseph had said on Monday that the organisers were asked to remain in the city as a probe is going on against Nandy for his comments that people belonging to OBCs, SCs and STs were the most corrupt, remarks over which he has expressed regrets.
Roy had said on Monday, "I have signed the papers on behalf of the JLF team to comply with the orders."
An FIR was lodged against Nandy and Roy last Saturday by Rajpal Meena, Chairperson of the SC/ST Rajasthan Manch, after Nandy stoked a controversy with his comments.
However, Nandy got some backing from various quarters.
Dalit author Kancha Ilaiah, said it was "a bad statement with good intentions".
"Prof Ashis Nandy made a bad statement with good intentions, however, as far as I know he was never against reservation. The controversy should end here," Ilaiah had said in a statement in Jaipur.