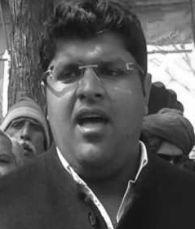 Jailed Indian National Lok Dal leader Ajay Chautala's elder son Dushyant figured in the list of candidates declared by the party for all the ten Lok Sabha seats in Haryana.
Dushyant Chautala, 26, will contest from Hisar Lok Sabha seat, as per the list of candidates announced by INLD leader Abhay Chautala and INLD's state President Ashok Arora at a press conference in Ballabhgarh on Friday.
Efforts by leaders including SAD patron Parkash Singh Badal for a possible tie up of INLD with the BJP in Haryana turned futile as jailed leader Om Prakash Chautala-led party finally decided to jump the electoral battle alone.
BJP's Haryana leadership was against any tie up with the INLD despite some top saffron party leaders had favoured an alliance between the two parties.
However, BJP is going with Kuldeep Bishnoi-led Haryana Janhit Congress in the state.
In the last Lok Sabha polls, INLD contested unsuccessfully from five seats out of total ten in the state.
The INLD list comprises three candidates from Punjabi community, two from Other Backward Classes Yadav and Saini and one woman contestant.
Former Minister Jaswinder Singh Sandhu, 58, has been fielded from Karnal seat, while former MLA Zakir Hussain, 51, to contest from Gurgaon seat.
Sitting party MLA Rao Bahadur Singh, 58, will fight from Bhiwani seat, another party sitting MLA Charanjeet Singh will contest from Sirsa (reserve), former minister Balbeer Saini (63) from Kurukshetra and former MLA and party's secretary Padam Dahiya, 51, from Sonipat.
INLD's Secretary General Ashok Sherwal's wife Kusum Bala, 44, has been fielded from Ambala (reserve), Shamsehr Singh, 57, from Rohtak and former MP R K Anand, 71, will be party nominee from Faridabad.
A CBI court in January last year sentenced former Haryana Chief Minister Om Prakash Chautala and his son Ajay Chautala to ten years rigorous imprisonment for illegal selection of over 3,000 junior basic trained primary school teachers in 1999-2000 by replacing the original selection lists compiled from 18 Haryana districts with fake ones.
Special Judge Vinod Kumar had sentenced eight others including Chautala's political adviser Sher Singh Badshami, his former OSD Vidya Dhar, and the former Haryana Director of Primary Education Sanjeev Kumar to ten years rigorous imprisonment.
Image: Indian National Lok Dal leader Ajay Chautala's elder son Dushyant