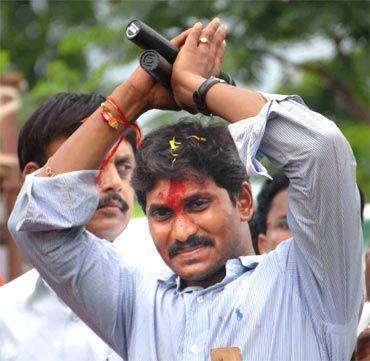 Rebel Congress leader and former Member of Parliament from Kadapa, Y S Jaganmohan Reddy will formally launch his much awaited regional political party at his family estate Idupulapaya on Saturday.
 ddressing a public meeting at Jaggampeta in East Godavari district on Friday, Jaganmohan Reddy announced that his party will be called the YSR Congress, after his father and former Andhra Pradesh chief minister late YS Rajasekhar Reddy.
"I and my mother Vijayalakshmi will formally hoist new party's three colored flag", he said. The flag will be hoisted at 2.29 pm near the final resting place of YSR at Idupulapaya in the presence of a huge gathering of his followers.
Jaganmohan Reddy, who quit Congress and the Kadapa Lok Sabha seat on November 29 last, alleging he was being humiliated by the Congress leadership, said that he will announce the party's policies and programmes after the by-elections to the Kadapa Lok Sabha seat and Pulivendula assembly seat. The latter was vacated by his mother.
Jaganmohan Reddy and his supporters were piqued that after the death of YSR in a helicopter crash in September 2009, Congress leadership had ignored his claim over the post of the chief ministership.
"The new party will walk in the footsteps of the great leader of masses YSR", he said.
At the public meeting Jagan formally welcomed two senior Praja Rajyam Party leaders -- former spokesperson Vasireddy Padma and former East Godavari unit president Jyothula Nehru.
YSR Congress, which was originally registered with the Election Commission by advocate Siva Kumar, was later shifted to Jaganmohan Reddy by formally electing him as the president of the party last month.
Image: Jaganmohan Reddy
Photograph: SnapsIndia