On Thursday, in a big win for India, the International Court of Justice stayed the execution of Kulbhushan Jadhav.
The ICJ instructed Pakistan to take all "necessary measures at its disposal" to ensure that Jadhav was not executed pending a final decision by it.
Following the order, reactions poured in from all over celebrating the big win.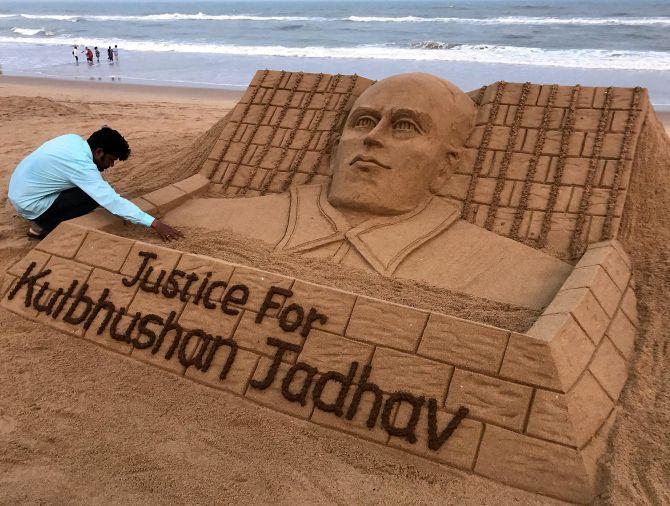 IMAGE: Renowned sand artist Sudarsan Patnaik creates a sand sculpture for Kulbhushan Jadhav at Puri beach in Odisha. Photograph: PTI Photo
"The ICJ order has come as a great relief to the family of Kulbhushan Jadhav and people of India. We are grateful to Mr Harish Salve for presenting India's case so effectively before ICJ.
I assure the nation that under the leadership of Prime Minister Modi we will leave no stone unturned to save Kulbhushan Jadhav. I compliment my team of officers in the MEA for their tireless efforts and hard work."
-- Sushma Swaraj, minister of external affairs
---
"Major victory for India Kulbhushan Jadhav case. ICJ upholds India's right to consular access, put a stay on death execution. Justice prevails.
International Court of Justice staying execution of Kukbhushan Jadhav has exposed Pakistan. I'm sure final order too will go in our favour."
-- Venkaiah Naidu, minister for urban development, information & broadcasting
---
"ICJ verdict endorses the relevance and necessity of procedural and substantive fairness which was denied by Pakistan. Relief and satisfaction as the ICJ order has come -- Rule of Law has won."
-- Arun Jaitley, defence and finance minister
---
"The ICJ's decision to stay the execution of Shri Kulbhushan Jadhav gives the people of India a deep sense of satisfaction and relief.
The EAM Sushma Swaraj has done a commendable job. The govt led by PM Shri Narendra Modi will go to any extent to save kulbhushan Jadhav."
-- Rajnath Singh, home minister
---
"Congratulations to @PMOIndia @narendramodi @SushmaSwaraj on the effort at ICJ to expose Pakistan's record of violating International Law."
-- Rajeev Chandrashekhar, Rajya Sabha MP
---
"GoI must use the ICJ decision as a trigger to bring Kulbhushan Jadhav back. ICJ has given a favourable decision."
-- Manish Tewari, Congress
---
"The case against Kulbhushan Jadhav by Pakistan was a sham and was in gross violation of international law as his execution was ordered by a kangaroo court without consular access. It is appreciated that the World Court saw reason in the Indian appeal."
-- Ghulam Nabi Azad, Congress leader