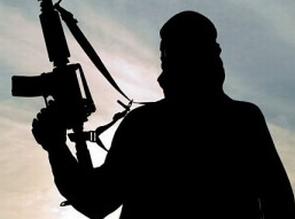 A policeman was critically injured on Monday after a suspected terrorist attacked him with a knife at Pampore in Pulwama district of Jammu and Kashmir, the police said.
The attacker also tried to snatch the cop's weapon after injuring him in the neck. He was overpowered and taken into custody, they said. The injured policeman is undergoing treatment at Soura Medical Institute here and his condition is stated to be "critical".
A police party was on duty in Pampore town, 16 kms from Srinagar, on Srinagar-Jammu national highway when the suspected terrorist attacked one of them and tried to kill him by slitting open his throat.
The assailant also tried to snatch his service rifle, but was overpowered by other policemen and was taken into custody. They said the attacker was taken for questioning and his identity was not known yet.
The incident, first of its kind in the valley, sparked panic in the area. The region has been cordoned off and further details are awaited, the police said.
Image for repesentation only