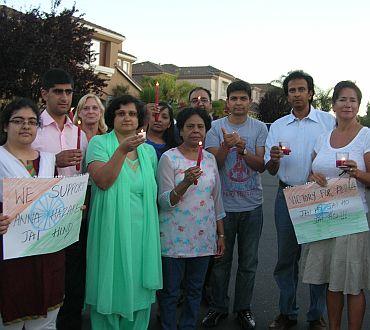 They are thousands of miles away from anti corruption crusader Anna Hazare, but to support him and his fight against corruption, people of the northern California's San Francisco Bay Area are keeping fast.

"I will be on fast for the next eight days," said Madhu Mujoo, now a naturalised US citizen.

Stating that she was strongly motivated by Hazare, Mujoo told rediff.com, "A 73-year-old person is doing so much for the country; it's really a evolution rather than revolution."

Mujoo said she did not know about the Gandhian till April, when she started tracking his philosophies.

"It was deeply inspiring for me," she said.

"I am fasting not just for Hazare, I am doing it for the upcoming generation. Corruption has a global impact, it is a problem that will impact not only India but 

the entire world," she said, adding, "I feel it is our responsibility to stand up and support Anna."

Mujoo was among the many who had gathered to participate in a candle light vigil hosted by the members of India Against Corruption in South San Jose on Tuesday, August 16.

Rohit Jately, organiser of the candle light vigil, said: "We have been independent for a while but we have always been slaves of corruption and it is affecting everybody."

Jately, who left office early to organise the candle light vigil, said: "Anna is a simple man and is not looking for power. He is fighting for you and I. So, if somebody is fighting for us why not support him?"

He added, "It is unfortunate, when I go and visit my country, I have to pay bribes to get my luggage through."