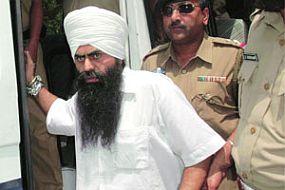 The Delhi government has set up a medical board to examine the health condition of death row convict Devinder Pal Singh Bhullar, who has been admitted in a Delhi hospital for the last two years.
Top Delhi government officials said the medical board, comprising a number of senior doctors from renowned hospitals, is expected to submit the report next week.
"The board has indicated to us that Bhullar's medical report will be made available to the government next week," an official said.
Bhullar was given the death penalty for triggering a bomb blast in Delhi in September 1993 that killed nine people and injured 25 others, including then Youth Congress President M S Bitta.
He has been admitted to the Institute for Human Behaviour and Allied Sciences in Delhi for over two years.
A senior doctor, who has been attending to Bhullar at IHBAS, said he has been suffering from depression and has suicidal tendencies.
"He is under close watch. He still has suicidal tendencies," the doctor said.
A Tihar jail official said as per the jail manual, a death row convict has to be physically fit before execution.
In April, the Supreme Court had dismissed Bhullar's plea for commutation of his death sentence to life imprisonment on the ground of delay in deciding his mercy plea.
Bhullar's wife on May 7 had filled a review petition against the Supreme Court verdict of April 12.
After the Supreme Court's dismissal of Bhullar's plea for commutation of his death sentence to life imprisonment, Punjab Chief Minister Prakash Singh Badal and his deputy Sukhbir Singh Badal had approached Prime Minister Manmohan Singh and the home minister to find a way to stop Bhullar's execution on the ground of peace and harmony in the state.
Bhullar had filed a mercy petition before the President on January 14, 2003. The mercy petition was dismissed on May 25, 2011.