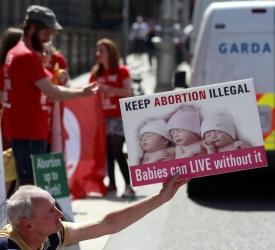 Ireland's parliament was forced to adjourn the debate on a bill that would legalise abortion for the first time in the predominantly Catholic country after an all-night debate on the issue moved into a second day on Thursday.
Ireland was forced to review its abortion law in cases where the mother's life is at risk following the death of Indian dentist Savita Halappanavar in a Galway hospital last October after she was denied an abortion.
The government-drafted the Protection of Life During Pregnancy Bill has strongly divided the Catholic country. An inquest into 31-year-old Savita's death earlier this year was told that a timely abortion could have saved her life.
After a marathon sitting of the Dail parliament on Wednesday that ended at dawn, over 100 of the 165 amendments to the bill were yet to be debated and a vote on the landmark laws to clarify a woman's right to a termination if her life is at risk is unlikely to go through even today. The laws will be supported by the vast majority of the country's politicians, but they are likely to see the fall of a junior minister who has shown signs of joining a small backbench revolt.
Despite minister for European affairs Lucinda Creighton's widely anticipated rebellion, the laws are likely to pass with a majority. Ireland Prime Minister Enda Kenny has stood firm on his hard line, insisting members of his Fine Gael party are well aware of the consequences of breaking ranks.
Hate mail and death threats to politicians, and intimidation of campaigners have raged throughout the divisive abortion debate. Outside the parliament hundreds of anti-abortion protesters, who had spent the night reciting prayers with rosary beads, vowed to spend a second night kneeling on the spot in hopes of inspiring lawmakers to rebel against Kenny.
"Keep abortion illegal -- babies can LIVE without it," their placards read.
While Ireland officially outlaws abortion in all circumstances, its laws on the matter have been muddled since 1992, when the supreme court ruled that abortion should be legal in cases where doctors deem a woman's life at risk from continued pregnancy -- including, most controversially, from her own threats to commit suicide if denied one.

Image: A Pro-Life campaigner demonstrates outside the Irish Parliament in Dublin ahead of a vote to allow limited abortion in the coountry

Photograph: Cathal McNaughton/Reuters