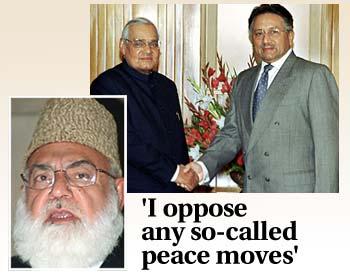 Qazi Hussain Ahmed, acting president of the Pakistani religious alliance Muttahida Majlis-e-Amal and chief of the Jamait e Islami, is a hardliner who openly supports the Hizbul Mujahideen, a terrorist outfit operating in Jammu and Kashmir.
The MMA, which is in power in two districts in Pakistan, faces an internal crisis after its secretary general Maulana Fazlur Rehman endorsed President General Pervez Musharraf's attempt to become Pakistan's constitutional head. This could affect the MMA adversely; the party won in the elections because of its religious appeal and its anti-America plank.
Qazi, however, refuses to acknowledge Musharraf as president.
He also organised demonstrations against India's Prime Minister Atal Bihari Vajpayee when he visited Lahore in February 1999. This time too, Qazi tells Sheela Bhatt, he is not in favour of the peace initiatives between India and Pakistan. Excerpts:
Do you support the peace initiatives between India and Pakistan?
If India declares Kashmir is not an integral part of India and accepts it as disputed territory, then we can support India's peace initiatives. This condition must be fulfilled, otherwise we cannot support them.
India is aware of your hard-line views. Don't you know this attitude has deepened the rift between two countries?
What is wrong with what I have said? I am just saying India should first acknowledge that Kashmir is a disputed territory. The dispute does exist, right? If there is no dispute, why are we fighting? Many Japanese and Americans have come to me to discuss Kashmir. All of them acknowledge a dispute exists over Kashmir.
Your organisation supports those jihadis who are fighting against the Indian armed forces.
See, we didn't go to Kashmir; Kashmir came to us. We could not insult them or avoid them. Why did they come here? If they were happy, why would they come to us seeking our support?
You are a religious leader, but you don't seem to regret supporting violence in which the young men of your country are dying unceremoniously?
Jihad is the weapon of a helpless person who is a victim of injustice.
Don't you see the Indian Army is fighting back? Besides, India has held a fair election in Kashmir.
Elections are not a solution to the Kashmir problem.
But your policy of supporting and accelerating violence has helped neither you nor Pakistan.
So many terrorists killed by the Indian Army are Pakistanis. Their dead bodies are not even returned to their families.
Don't you feel for their mothers?
People die of poor health too. All of us will die one day. It is better to die than live as someone's slave. If someone tells me to bow down, if someone tells me I am not an independent person, it is better for me to die.
To what extent do you support the recent peace initiatives by Prime Minister Vajpayee and President Musarraf?
I don't support it one bit. I completely oppose any so-called peace moves. I'll support only those peace initiatives that are supported by the Kashmiris.
Does this mean you think even Musharraf does not understand the Kashmiris? After all, he too is party to these initiatives.
I don't know what Musharraf has said to India and what Musharraf will be saying to India. As far as I am concerned, you can't put Kashmir on the backburner. You can't talk peace without Kashmir.
You are not protesting against Vajpayee's visit this time?
In 1999, Indians said the creation of Pakistan is a scar in their hearts; like the Berlin wall, the divide between the two countries should be removed and they should unite. We were opposing that sentiment.
Kashmir is a state with a Muslim majority. If India could be divided on the basis of religion in 1947, why can't it be similarly divided now? Why is India reluctant about accepting historical facts?
Your party helped Musharraf get an endorsement in parliament. Do you still believe he is a legitimate president?
He is a legal president but not the people's president. He will become president in the real sense only when he gives up his uniform; it is a constitutional obligation for him to do so. I believe he will, Inshah Allah, give up his uniform before the deadline of December 2004. It is a public demand. He is not the people's representative. He has suspended certain articles of the Constitution and managed to survive so far. We don't support military intervention in civil life; we want the military back in their barracks.
The likelihood of that happening has become even more remote since you supported him and made him president.
That's not true. Actually, he was to remain in uniform for an indefinite period but we have now changed that. Musharraf's countdown has begun.
Is it true the army played a big role in the formation of the MMA?
It is a blatant lie. Musharraf was taunting us; he claimed we did not have even two per cent support in Pakistan. He used to dismiss us as 'mazhabi log [religious people].' He was shocked when we won the election.
Are you planning to visit India?
I'll come to India only after the Kashmir dispute is resolved. Give the Kashmiris their due.
What is your opinion about America's presence in Pakistan?
We don't appreciate American interference in Pakistan's internal policies.
Do you think America would gain strategically if India and Pakistan continue to fight because of the attitude of hardliners like yourself?
It is India's responsibility to ensure America does not take advantage of the Kashmir dispute.
Qazi Hussain Ahmed's photo: Farooq Naeem/AFP/Getty Images
Musharraf and Vajpayee's photo: AFP/Getty Images
Image: Dominic Xavier
ASLO SEE
SAARC: The complete coverage