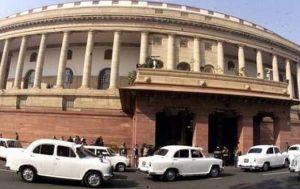 Bowing to opposition pressure, the government has agreed to refer the controversial Insurance Bill to a Select Committee of Parliament, which will have 15 members.
According to sources, the committee will be headed by a member from the ruling BJP even though Congress had sought the chairperson's position.
Sources added that the government has given three names -- Chandan Mitra, Mukhtar Abbas Naqvi and Jagat Prakash Nadda -- for the panel's chair and a decision on it will be taken on Thursday.
Highly-placed sources told PTI that the MPs likely to be included in the important panel are former Commerce minister Anand Sharma, BK Hariprasad and JD Seelam (all of Congress), Satish Misra (Bahujan Samaj Party), KC Tyagi (Janata Dal-United), Derek O'Brien (Trinamool Congress), V Maitreyan (All India Anna Dravida Munnetra Kazhagam), Naresh Gujral (Shiromani Akali Dal), Ram Gopal Yadav (Samajwadi Party), Kalpataru Das (Biju Janata Dal), P Rajiv (Communist Party India-Marxist) and Rajiv Chandrasekhar (Independent).
The government agreed to the opposition's demand amidst receding hopes of being able to convince it to support its first major economic reform initiative.
The major opposition parties had joined hands on the issue and demanded that the Insurance Bill be sent to a Select Committee.
The bill, which proposes to hike the FDI limit in insurance sector to 49 per cent, has been caught in a logjam with the Congress-led opposition insisting that it be referred to a Select Committee.
Government sources have now said that a decision has been taken to refer the bill to a Select Committee and an announcement in that regard could be made in Parliament tomorrow, the last day of the current session.
The sources noted that the opposition has been steadfast in its refusal to come on board to support the bill, forcing the government to take the decision.
The government is confident of getting the bill passed in Lok Sabha but is wary about Rajya Sabha, where the ruling NDA has fewer numbers.
Although the government earlier listed the bill in Rajya Sabha, it was deferred and, strategically, not listed later as consultations were carried on with various parties for their support.
With a view to gaining support, the government has made it clear that it is amenable to amendments in the bill.
Congress, which had supported a hike in the FDI cap when it was in power, now wants the bill to be referred to a Select Committee for threadbare examination of the issue since the government has brought in some amendments to it.