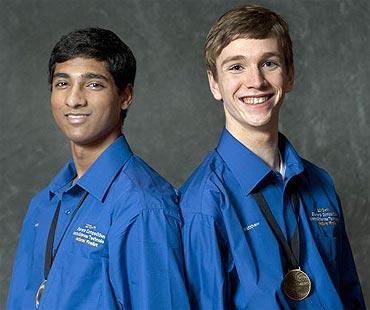 Inspired by the science fiction movie
I, Robot
, an Indian-American high school student from Oregon was joint winner of the first prize on Monday in a competition that honoured America's top math and science students. 
Akash Krishnan will take home a grand prize of $100,000 (Rs 44.8 lakh), which he will share with his fellow student Matthew Fernandez, both juniors at juniors at Oregon Episcopal School in Portland, Oregon. The duo topped the team category for developing a computer algorithm to detect more accurately emotion in the human voice.
"The duo built a computer algorithm that allows us to listen to an auditory signal from a human, analyse it and assess the emotional state of the speaker," said competition judge Gert Lanckriet from the department of electrical and computer engineering, University of California, San Diego. "It can help identify if the speaker is angry, sad, bored, anxious or happy. They came up with a strong creative idea and brought it from theory into practice."
According to Lanckrie, Krishnan and Fernandez were inspired by the movie I, Robot, in which a robot can sense when its user is stressed. "Using an emotional speech database with 18,215 files and five emotions -- anger, positive, neutral, emphatic, rest -- the team developed, trained and tested a classification engine to determine emotions from an input signal," he said.
The project -- The recognition of emotion in human speech -- comprises a broad range of applications, from autism research to computer games and lie detection.
Alluding to the work of Krishnan and Matthew, Lanckriet said that their work could even be used to enhance cell phone technology. "In cell phones most of the encoding is designed to ensure words are understood, but the emotional background of the conversation may be lost. Krishnan and Matthew's work could help ensure that the emotion comes through," he said.
Krishnan was not the only one in the competition who has his roots in India. Three other students of Indian origin -- Santosh Narayan of Munster, Indiana, Nikhil Mehandru of Roslyn, New York and Sonia Prasad of Roslyn Heights, New York -- bagged the fourth position in the team category in the national championship and were awarded a $30,000 (Rs 13.4 lakh) scholarship.
Benjamin Clark, a 15-year-old senior at Penn Manor High School in Millersville, Pennsylvania, won the $100,000 grand prize in the individual category for research that sheds new light on how stars are born.
Monday's $100,000 winners will ring the closing bell at the New York Stock Exchange in January.
For Krishnan Monday's honour is just another feather in his cap. He was a frontrunner in his district's first Lego league competition for four years running, a semi-finalist in the 2010 Oregon computer science competition, and was awarded the Best of Fair with Fernandez in the Intel international science and engineering fair. He plans to pursue computer science and electrical and mechanical engineering in college.
But science is not the only interest of this Telugu-speaking boy. He plays the piano and clarinet, and has a black belt in Okinawan-style karate.
The competition
The 2010 Siemens national competition in math, science and technology announced the honours at the George Washington University.
"These students inspire us all with their passion and commitment to serious scientific research. As America focuses on reinvigorating math and science education, they remind us of what is possible when young people are challenged to take up science," said Thomas McCausland, chairman of the Siemens Foundation.
The Siemens competition was launched in 1998 to recognise America's best and brightest math and science students. At the finals of the 12th national competition six individuals and six teams presented their research to a panel of judges comprising nationally-renowned scientists and mathematicians headed by lead judge Thomas D Jones, a scientist, author, pilot and former National Aeronautics and Space Administration astronaut.
Image: Akash Krishnan and Matthew Fernandez bagged the first place in the team category at the 2010 Siemens national competition in math, science and technology