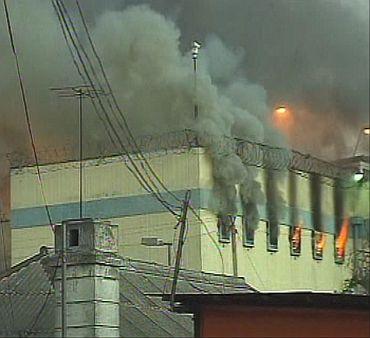 At least 83 inmates have died after a fire swept through a severely overcrowded San Miguel public prison in the Chilean capital Santiago on Wednesday.


Hundreds of inmates were evacuated and at least 14 were injured, some with serious burns, as flames tore through the building.

Local television footage showed smoke billowing from the prison, while inmates waved their hands through the prison windows.  Other footage showed panicked relatives pressed upon the prison fence, throwing rocks, and scuffling with each other and police.  

Chilean President Sebastian Pinera called the conditions at the prison "absolutely inhumane."

Relatives told local media that prison police had initially prevented firefighters from entering the building.

Officials said the fire broke out during an early morning fight between inmates in one of the five towers of the prison.

There are 1,900 inmates in the prison, which was built for no more 1,100 people.

A Chilean official said it is the deadliest incident in the history of the country's prison system.
Image: In this still image taken from video shows a fire at San Miguel public prison in Santiago
Photograph: Ho New/Reuters