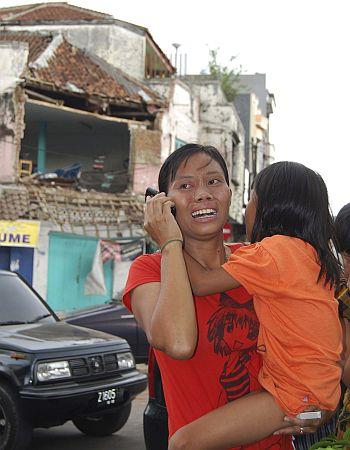 A powerful earthquake shook southern Indonesia on Wednesday killing at least 15 people, injuring dozens and levelling a large number of houses and buildings.
The 7.0 magnitude quake that struck at 2.55 pm local time off the southern coast of the island of Java, also triggered landslides leaving several houses buried.
The quake also sent people out in panic in the capital Jakarta, 200 kms away from the south. A tsunami alert was issued but later withdrawn as there were no large waves.
A massive tsunami triggered by an earthquake in 2001 had caused heavy loss of life and property in Indonesia, among other places in Asia.
Building collapses and rockslides left a trail of destruction and caused most deaths due to the quake that had a depth of 50 km, officials said. There were also reports of injuries in Jakarta.
Some people were also killed in a rockslide near the southern coast of Java island.
However, the final number of injured was not yet known in the southern areas as scores of people were being admitted to hospitals.
"I ran out in panic, the whole house was spinning and my windows and shelves were rattling madly," said Rinku Khanna, an Indian national living in Jakarta. She said according to her Indonesian friends it was the strongest ever quake felt in the capital.
"Even my Toyota Alphard, which is such a heavy vehicle and was parked in the garage, moved by itself. It was just too scary," Khanna said.
Residents of Tasikmalaya town, about 115 kms from the epicentre, too felt it was the most powerful quake ever. So far 10 deaths have been reported in the southern Cianjur district of West Java.
A group of Indian women holidaying in Jogjakarta, however, said the quake was not felt in that area. "We knew there had been a quake but Jogjakarta was fine, we did not feel anything," said Deepika Sharma, a resident of Pune and an IT education specialist, said.
Health ministry crisis centre head Rustam Pakaya said at least 27 people were hospitalised in Jakarta but that the number could go up.
Indonesia is prone to seismic activity along what is known as the Pacific Ring of Fire.
Image: A woman makes a phone call near a damaged house after a powerful earthquake shook Tasikmalaya, West Java | Photograph: Reuters