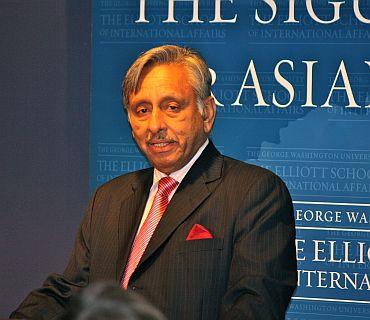 The mercurial Mani Shankar Aiyar, erstwhile diplomat and former Cabinet minister in the Manmohan Singh government -- not known to mince words -- has asserted that terrorism in South Asia can only be tackled if India cooperates with Pakistan in addressing this scourge jointly and not in confrontation with Islamabad.
Aiyar, currently a Rajya Sabha member, who delivered the 15th annual Gaston Sigur Memorial Lecture at the George Washington University to a packed audience of faculty and students, as well as a number of think-tank representatives and policy wonks in Washington, DC, said, "To my mind, and based on three decades of frequent visits to Pakistan and repeated interaction with a wide spectrum of Pakistan public and political opinion, a harmonious relationship with Pakistan is not only desirable but eminently feasible."
But, he argued that "this requires so structuring the India-Pakistan dialogue as to make it both uninterrupted and uninterruptible. There is no Indo-Pak issue so intractable as to not be capable of yielding to sustained discussion, as was demonstrated on the back channel during the Musharraf regime, an emergent agreement that dealt even with Kashmir let alone lesser matters."
Aiyar said, in his lecture titled 'Emerging India and her Extended Neighbourhood,' that "it is disruption of dialogue that is the enemy of dispute resolution. Therefore, inuring the dialogue, insulating it, as it were, from the inevitable ups and down of a relationship as fraught as ours, is of the essence for the dialogue to bear fruit."
He acknowledged, "The topic is such as to warrant a lecture on its own, but let me offer you a quick resume of the three reasons on the Pakistani and Indians sides respectively which make me believe that things augur well for a new relationship between the two distant neighbours."
"First, from an Indian perspective, for the domestic reason that a tension-free relationship with Pakistan would help us consolidate our nationhood, the bonding adhesive of which is secularism. Second, for the regional reason that regional terrorism can be effectively tackled only in cooperation with Pakistan and not in confrontation with it. Third, for the international reason that India will not be able to play its due role in international affairs so long as it is dragged down by its quarrels with Pakistan," he said.
By the same token, argued Aiyar, "I believe it is in Pakistan's interest to seek accommodation with India for three counterpart reasons. First, the Indian bogey has harmed rather than helped consolidate the nationhood of Pakistan. Second, Pakistan is unable to become a full-fledged democracy and a sustained fast-growing economy owing to the disproportionate role assigned to alleged Indian hostility in the national affairs of the country. And, third, on the international stage, Pakistan is one of the biggest countries in the world and instead of being the front-line in someone else's war perhaps deserves to come into its own as a frontline state in the pursuit of its own interests."
In his remarks and during the interaction that followed, Aiyar addressing the question if "the fact of Pakistan being the hub of world-wide terrorism an impossible obstacle to the normalisation of relations between New Delhi and Islamabad, said, "This was perhaps true at a time when the three types of terrorism prevalent in Pakistan -- namely, terrorism against India, terrorism against the West, and terrorism targeted at Pakistan itself -- could be distinguished one from the other."
But Aiyar said, "The three breeds are getting increasingly merged and it is increasingly evident to the Pakistani establishment that Pakistan's own survival depends as much on ridding its soil off all types of terrorism as on ridding itself of terrorism that targets the home base but acquiescing in the export of terrorism, as it once thought possible."
Thus, he reiterated that "any accommodation between India and Pakistan would have a beneficial impact on Afghanistan."
Aiyar who delivered his lecture just days before the covert US operation in Pakistan, found and eliminated Osama bin Laden, said, "The increasingly despairing search for the most-wanted Osama bin Laden has gravely damaged Pakistan and its relations not only with neighbouring Afghanistan but even with its own people, who are being killed by the hundred in Waziristan and elsewhere in a war started by someone else."
He pointed out that "Afghanistan has been accepted a member of the South Asian Association for Regional Cooperation, and predicted that "a trialogue between Afghanistan, Pakistan and India would complement the India-Pakistan dialogue and could lead to an amicable rearrangement of relations in the north-west of the sub-continent."
Aiyar reiterated that "Indian, Pakistani and Afghan interests are complementary not confrontational if Afghanistan is to come into its own and not just function as a backwater providing Pakistan with strategic depth."
In Nepal, he said, "Democracy is struggling to institutionalise itself. The transition from monarchy to a republican order has not been smooth but it certainly makes it more possible to move from monarchical whims to a mature relationship between two democracies that privileges Nepal's perceived national interests while accommodating China's interests without endangering India's security, thus enabling both countries to contribute in their respective ways to promoting the development of one of the poorest and least developed countries in the world."
Thus, Aiyar argued that "making Nepal a field of cooperation between India and China rather than a hotbed of rivalry might pave the way to bringing the autonomous region of Tibet into an arrangement with SAARC or even into SAARC itself. Far-fetched as this might sound at the present juncture, South Asia will acquire a comprehensive identity when it is expanded from the founding Seven, now Eight including Afghanistan, to Myanmar and Tibet."
Meanwhile, he said, "To the south, the ending of the Liberation Tigers of Tamil Eelam insurgency augurs well for restoring brotherhood and equality between all sections of the Sri Lankan nation, involving the devolution of powers not only to the provinces but, even more importantly, to democratically elected community representatives at the level of local self-government."
"The two smaller SAARC members, Bhutan and Maldives, constitute ideal examples of constructive cooperation with and within the region, friends with all and enemies with none," he added.
On the economic front, Aiyar, who served as minister of Petroleum and Natural Gas from 2204 to 2006 in the Manmohan Singh government, said, "An Asian Oil and Gas Community, possibly even an Asian Gas Grid, would give confidence to Asian consumers that they will get the energy they need to achieve and sustain the high rates of GDP growth on which their national destinies and the Asian resurgence depend."
He said, "It will also orient Asian producers to the Asia of the future rather than remaining mired in the world of oil and diplomacy that emerged in the aftermath of the Second World War."
Aiyar said that while he was India's minister of Petroleum and Natural Gas, he had "made a tentative beginning in this direction" and noted that "we succeeded in convening the major Asian consumers and producers in two conferences in January and November 2005 that institutionalised a pan-continental dialogue."
 "Carrying forward that dialogue, building strong bilateral energy relations, establishing an Asian or Indian Ocean Index for oil and perhaps even gas, and covering the continent in a network of pipelines, would be to convert the danger of destructive intra-Asian rivalry into the harbinger of pan-Asian cooperation, heralding an Asian resurgence that would take human civilization itself to a higher plane of thought and action," he said.
But Aiyar acknowledged that "Much depends, on whether India's relations with its more immediate neighbors are harmonious or not," and said, "The fraught relationship with Pakistan makes Pakistan an obvious party for the Chinese to cultivate to keep India in check. "
He said the most recent manifestation of this were the "recent Chinese military presence at the passes through the Karakorams in the high Himalayas that Pakistan has gifted to the Chinese that have sounded an Indian alarm."
"Further south," Aiyar said, "The naval facilities the Chinese are building in the Cocos islands in the Andaman Sea reinforce the advantage they have acquired through never having had any inhibitions over dealing with the military regimes that have ruled Myanmar with an iron hand since 1962."
"The blue water strength of the Chinese navy and its expanding mercantile maritime interests in the Bay of Bengal and the Indian Ocean area, evidenced in the deep water harbors they are helping build at Hambantota, in the President's constituency in Sri Lanka, and at Gwadar on the Arabian Sea coast of Pakistan, have stoked Indian concerns to the point even of fearing encirclement," he added.
Image: MP Mani Shankar Aiyar delivering the 15th annual Gaston Sigur Memorial Lecture at the George Washington University