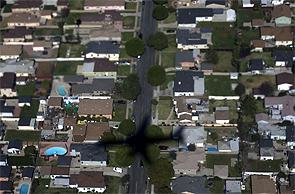 Pakistani officials on Tuesday alleged that two Indian fighter jets had entered seven km into the country's airspace over Punjab province.
They said the incident occurred over Pakpattan district, 200 km from the provincial capital of Lahore.
The officials alleged the jets remained in Pakistani airspace for over one minute.
Indian Air Force sources in Delhi rejected the claim, saying, "Our pilots did not cross the border".
An official from Pakistan's Civil Aviation Authority said the Indian jets violated Pakistani airspace over Head Sulemanki area of Pakpattan district.
"The two jets entered some seven km inside Pakistani airspace. After remaining for over one minute in Pakistani airspace, they left," said the official, who did not want to be named.
Pakistan has not yet officially registered a protest with India over the incident, officials said.
The incident occurred at nearly 10.40 am, Geo News channel reported. It said the Pakistan Air Force had scrambled its fighter jets following the intrusion though this could not be independently confirmed.