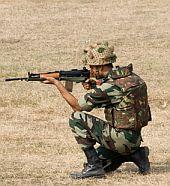 The Indian Army is celebrating its 65th Foundation Day on Tuesday.
Pay your tributes to our fallen soldiers
President Pranab Mukherjee, Prime Minister Manmohan Singh and Defence Minister A K Antony and Army Chief General Bikram Singh have greeted the personnel of the Indian Army on this occasion.
"The boundless contribution of our army to nation building is amongst its greatest legacies. Be it ensuring the nation's territorial integrity, fighting the scourge of terrorism, reaching out to fellow citizens in times of natural calamities, our Army has consistently performed all duties with dedication and professionalism," said President Mukherjee in his congratulatory message.
Dr Singh in his message said 'the Indian Army continues to serve with outstanding professionalism, dedication and bravery in guarding our borders, security our nation, providing support in internal security and assisting the civil administration during natural disasters'.
"It has earned the respect and gratitude of the entire nation. Today, we also pay special homage to those of its members who have made the supreme sacrifice for the country," he added.
Antony in his message complimented the Indian Army for its continued exceptional performance in service of the nation.
"Over the years, the Army has displayed its professionalism in nearly all the situations in the most commendable manner. The nation is always proud of their contributions, both during times of war and in peace. The record of the Army and its dedication and commitment has inspired confidence among the people," he said.
The Army Chief in his message said 'this day marks yet another year of the Army's selfless service and commitment to the nation'.
"You all have continuously strived to meet the expectation of the nation, with utmost dedication and motivation. The year gone by is replete with acts of your bravery and unswerving sense of duty. You epitomise the very spirit of secularism, national integration and harmony," he said.
Army Day is celebrated on January 15 every year in India, in recognition of Lieutenant General (later Field Marshal) K. M. Cariappa's taking over as the first Commander-in-Chief of the Indian Army from Sir Francis Butcher, the last British commander, in 1948.
The day is celebrated in the form of parades and other military shows in national capital as well as all six Army Command headquarters.
Army Day marks a day to salute the valiant soldiers, who sacrificed their lives to protect the country.