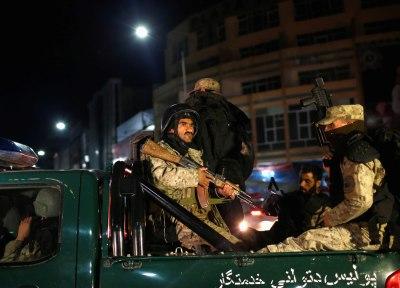 India on Friday said none of its nationals was killed in a Taliban attack on a heavily fortified luxury hotel in Afghanistan's capital. Afghan Interior Ministry spokesman Sediq Sediqqi had said that four foreigners -- one each from New Zealand, Canada, Pakistan and India -- were killed in the attack on SerenaHotel which is used by UN staff and foreign diplomats.
But in New Delhi, the ministry of external affairs officials said no Indian was killed in the attack. The attackers entered the hotel at 8:30 p.m. on Thursday in traditional Afghan clothing and started shooting.
Sediqqi said five Afghans were among those killed, including two children who were shot in the head. Two of the attackers were gunned down inside the restaurant in Serena, third inside the bathroom and fourth in a close by area, he added.
Sediqqi said the attack was planned outside Afghanistan. "I hope the ceasefire between the Taliban and Pakistani government has nothing to do with the elections," he added.
The SerenaHotel has been a frequent target of insurgent attacks in the past.
Image: Afghan security personnel arrive near the Serena hotel, during an attack in Kabul. Photograph: Ahmad Masood/Reuters