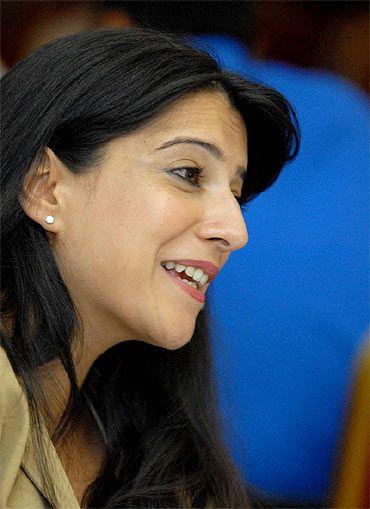 Indian-American Democrat Reshma Saujani lost New York's Democratic Congressional primary to veteran Carolyn B Maloney after a keenly fought and sometimes vicious contest in which the two candidates took potshots at each other and exchanged a series of verbal punches.
Congress Representative Maloney took 81 per cent of the votes against her 34-year-old opponent, a former fundraiser for Hillary Clinton who represents New York in the US Senate.

Saujani might have garnered only 19 per cent of the votes, but many observers have described her as a "tough challenger" to Maloney who has never had serious competition earlier, and is expected to win a 10th term in the general election in November.
Saujani, a lawyer whose parents fled the oppressive regime of Idi Amin in Uganda to seek asylum in the US, raised more than USD 1.3 million in her bid to represent the 14th Congressional District, and she was Maloney's most serious opposition to date, The New York Times said.
"This was interesting, to say the least... I've never lost an election and I don't intend to start now," Maloney said.
Maloney had raised twice the amount, and was supported by the Democratic establishment, President Barack Obama and the state's two United States senators, NYT said.
"You are my luck, and I am nobody's congresswoman but yours," she said speaking to supporters on Tuesday.
"I remain unbought and unbossed. It was an amazing win".
The election campaign was full of punch and saw the two women take potshots at each other.
Saujani reportedly referred to Maloney as a "reliable but mediocre Democrat" and, in a radio debate, also called her a liar.
The long-running political drama between the two rivals grabbed local headlines in the past few months.
"This political attack marks the height of hypocrisy: our opponent, a former hedge fund employee, is being bankrolled by the financial services industry while Maloney has a consistent record standing up to the special interests," Maloney's team had said in June.
Maloney, 64, will now face David R Brumberg, from the Republican side.
Saujani, who had been advised for a lower office, has indicated that she intends to run in the next election cycle.
"I have always said that the problem is that people feel like politicians lose and then they leave," Saujani said.
"I ran because I want to bring about change for my district so if we do not win, if we're not successful, that same commitment to change -- creating jobs, fixing our schools -- doesn't go away," she was quoted as saying by the Wall Street Journal.