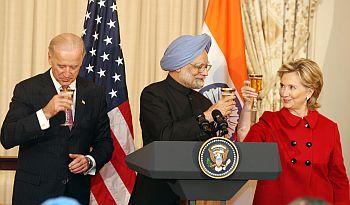 Prime Minister Manmohan Singh has said that India is ready for an intense and wide ranging cooperative engagement with the United States.
"We are ready for an intense and wide-ranging cooperative engagement in all areas of human endeavour," Dr Singh said in his address at the luncheon hosted by Secretary of State Hillary Clinton at the Foggy Bottom headquarters of the State Department.
"At our meeting today, President Barack Obama and I reaffirmed the importance of India-US partnership for meeting the aspirations of our people and the global challenges of this troublesome 21st century. The civil nuclear initiative was a turning point in our relations," he said.
"In pursuing this, our shared values, common interests and the vitality and creativity of our peoples are our greatest asset," he said, adding that technology is the key to meeting many challenges that lie now on the horizon.
"Whether it is transition to a green economy, achieving energy security, combating pandemics or lifting millions of our people above poverty, technology can play a very important role in all these areas," he said.
The prime minister called for putting in place a policy framework that facilitates the transfer of high technologies from the US and India.
"We have a shared interest in promoting prosperity and stability in the Asia-Pacific region. We have a common stake in peace and development in Afghanistan and in defeating terrorism in South Asia and beyond," Singh said.
Noting that the creation of the G-20 framework to address global economic and financial issues was an act of great statesmen on the part of the US President, he said Obama played a "magnificent role" in bringing this about.
"We should build upon this cooperative and inclusive approach to problem-solving at the global level. This certainly happens to be an idea whose time has come," he said.

Dr Singh also praised the efforts of Clinton in strengthening of Indo-US relationship.
"I convey to you my very sincere gratitude for the time and energy you have invested in advancing our relations in numerous capacities, first as the first lady of the United States, then as a senator for the State of New York, then as the co-chairperson of the India Caucus," he said.
Dr Singh said Clinton's visit to India in July this year has prepared the groundwork for a greatly strengthened strategic partnership between the two countries.

Image: Prime Minister Manmohan Singh raises a toast with US Vice President Joe Biden and Secretary of State Hillary Clinton.
Photograph: SnapsIndia