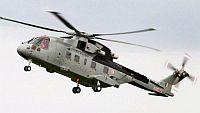 India is expected to ask Britain to help in its probe into the allegations of kickbacks in the Rs 3,600 crore deal for procuring 12 VVIP choppers from the Anglo-Italian firm AgustaWestland during the Annual Defence Dialogue between the two sides next week.
Defence Secretary Shashikant Sharma is scheduled to visit London on Saturday for the ADD on Monday there where the issue of payment of kickbacks to the tune of Rs 362 crore in the deal is expected to come up, defence ministry sources said in New Delhi.
The defence secretary is expected to ask the British side to assist in the probe against AgustaWestland, which manufactures the AW-101 choppers in its facility based in the UK.

India had been seeking the help of the British government ever since the allegations of kickbacks surfaced in the deal after the arrest of former Finmeccanica CEO Guiseppe Orsi and former AgustaWestland CEO Bruno Spagnolini in Italy.

The issue was taken up by the Indian side during the visit of British Prime Minister David Cameron also.
The CBI is already investigating the matter and has named former IAF Chief S P Tyagi along with his three cousins and the two former CEOs in it.
The defence ministry is now awaiting the preliminary report from the CBI before initiating any action in the case.

During the defence talks, the two sides will also discuss ways of further strengthening their defence ties.
Meanwhile, troops of the British Special Forces will be in Belgaum in Karnataka from April 19 for a three-day exercise there with their Indian counterparts.