It will get colder in the next 2, 3 days, reports Sanjeeb Mukherjee.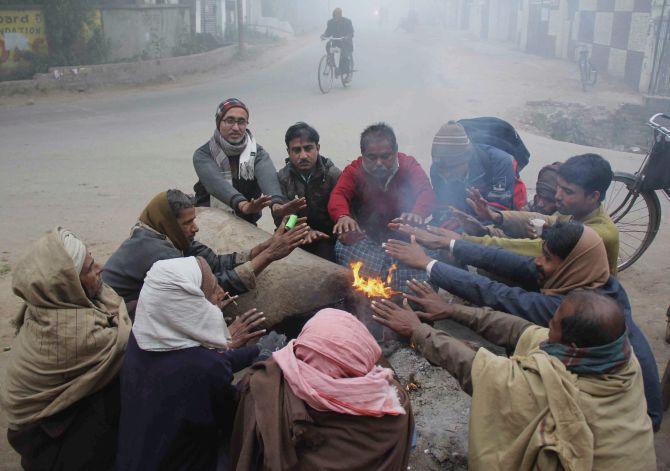 The current cold wave conditions which started from Monday, January 9, could reach its peak in the next 3, 4 days before subsiding marginally.
The cold conditions could thereafter prevail till January 21 over most parts of the country, but with lower intensity, meteorologists said.
The cold wave conditions, which started Tuesday onwards, has seen temperatures in many places across North India plummet below 5 degrees Centigrade and could continue till January 16.
'Cold wave to severe cold wave very likely at a few places over Punjab, Haryana, Chandigarh, Delhi, Uttar Pradesh, Rajasthan and cold wave at a few places over Bihar, Madhya Pradesh, Vidarbha and interior Odisha during next 2, 3 days,' the India Meteorological Department said in its weekly update.
The minimum temperatures are very likely to be below normal over most parts of the country till January 21, while over North India they are likely to be above normal from January 22-26, the Met added.
An extended cold conditions particularly over North and Central India should help in proper growth of the wheat, mustard and chana crops.
Much would also depend upon the weather conditions in February and March before any estimate on final harvest could be made.
Till last week, wheat, which is the biggest rabi crop, was sown in 30.31 million hectares of land which is 7.62% more than the same period last year. While the area covered under mustard and wheat was also higher.
"The severe cold wave conditions could persist for a few more days as another Western disturbance is projected to hit the hills in the next 48 hours," Mahesh Palawat, chief meteorologist at private weather forecasting firm Skymet told Business Standard.
Thereafter, he said, the temperatures would subside and the severity seen this week might not happen anymore this year.
"The minimum temperatures could stay above 6 degree Celsius after January 16 as another round of snowfall is expected around January 25 to 27, but of much lesser intensity as compared to the current spell," Palawat said.
Last week, less than 5 degree minimum temperatures were recorded at most places over Jammu and Kashmir and Himachal Pradesh on almost all the days; over Uttarakhand on many days; and over Punjab; Haryana, Chandigarh and Delhi; Rajasthan and West Uttar Pradesh on one or two days of the week.
The lowest minimum temperature in the plains of -0.5 C was recorded at Narnaul in Haryana on January 11.
WATCH: Delhi's coldest day of the season: