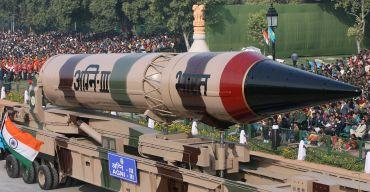 Two days after a perfect trial of the highly advanced Agni-IV weapon system, India on Friday successfully test-fired its nuclear-capable Agni-III missile with a strike range of over 3000 km from the Wheeler Island off the Odisha coast.
The indigenously developed surface-to-air missile, capable of carrying a warhead of 1.5 tonnes protected by a carbon all-composite heat shield, blasted off at 1315 hours from a mobile launcher at launch complex-4 of Integrated Test Range, defence sources said.
"The trial was successful and met all the mission objectives," a defence scientist said.
The launch operation was carried out by strategic forces command of the Indian army with logistic support from the Defence Research and Development Organisation.
The trajectory of the trial was monitored for data analysis through telemetry stations, electro-optic systems and sophisticated radars located along the coast, and by naval ships anchored near the impact point, the sources said. 
"It was the fifth test in the Agni-III series carried out to establish the 'repeatability' of the state-of-the-art missile's performance," a DRDO scientist said.
Agni-III missile is powered by a two-stage solid propellant system. With a length of 17 metres, the missile's diameter is 2 metres and has a launch weight of around 50 tonnes.
The missile is equipped with hybrid navigation, guidance and control systems along with advanced on-board computers. The electronic systems are hardened for higher vibration, thermal and acoustic effects, a DRDO official said.
Though the first development trial of Agni-III carried out on July 9, 2006 could not achieve the desired result, subsequent tests conducted on April 12, 2007, May 7, 2008 and February 7, 2010 from the same base were all successful.
Friday's test came after a successful trial of highly advanced Agni-IV ballistic missile with a strike range of about 4000 km from the same base.