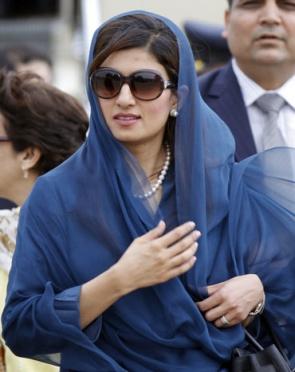 Former Pakistan foreign minister Hina Rabbani Khar on Wednesday said India and Pakistan should shed their "old baggage" as she made a strong pitch for the resumption of the Indo-Pak dialogue process.
Asserting that she "disagrees" with the views of Jamat-ud-Dawah chief and 26/11 Mumbai terror attack mastermind Hafiz Saeed, she said India should share evidence in the attacks probe case that "holds" in a court of law.
"We, both India and Pakistan, have done a fantastic job of infesting the young minds with hatred for each other. Let us not fall prey to historical mistakes, do not judge with historical baggage...patience and perseverance is needed (to take India and Pakistan ties forward)," she said.
"If you allow the past to determine the future, then it becomes difficult," Khar said while addressing a conclave in Delhi.
Khar, while quoting an earlier statement of an Indian bureaucrat, said an "uninterrupted and uniterruptible" dialogue has to be kept on going between the two countries.
She also said Pakistan is facing the challenge of terrorism more than India as she answered questions about Hafiz Saeed and Dawood Ibrahim.
"Hafiz Saeed has been put in detention twice in Pakistan. Give us evidence (in the 26/11 attacks case) which may hold in a court of law, and I will also say I disagree with Hafiz Saeed. His views are not good for Pakistan and I believe with the utmost sincerity that it would be in Pakistan's interest to solve this case," Khar said.
She was asked about her views on India repeatedly asking for voice samples of handlers of terrorists who perpetrated the 26/11 killings and about the founder of JuD.