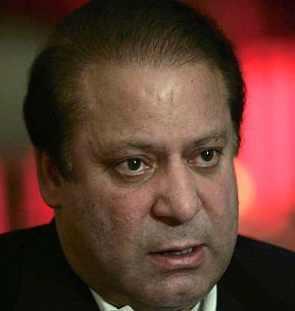 Pakistan Muslim League-N President Nawaz Sharif condemned the unlawful treatment given to prisoners in the jails of both countries.
Former prime minister and Pakistan Muslim League-N President Nawaz Sharif said that Pakistan and India must resolve the Kashmir dispute through peaceful dialogue.
He was speaking with Pakistan's television channel Geo News host Hamid Mir on Tuesday.
He criticised the uncivilised and unlawful treatment given to prisoners in the jails of both countries. "May be Sarabjeet Singh was an Indian spy but our law and our religion does not allow us to attack him in prison. Indian law does not allow anyone to attack Pakistani prisoner Sanaullah in the Jammu jail."
Condemning both incidents, he said, "India and Pakistan must behave like civilised nations."
Shaif also said has no reservations in taking oath from President Asif Ali Zardari as prime minister, in case he is voted to power in the May 11 elections.

He said if his party succeeds in sealing a victory during the upcoming elections, he won't hesitate to get his prime ministerial oath administered by Zardari since it "is a constitutional obligation".

"I won't mislead the nation by claiming like Imran Khan that I will not take my oath from President Zardari. My personal or political disliking for him notwithstanding, this constitutional obligation needs to be fulfilled,'' he said.

He further said that Imran Khan refused to take oath from Zardari because he knows he cannot become the prime minister. Sharif hinted that he will have a normal relationship with Zardari and will meet him whenever required if he becomes the PM.

He did not dismiss chances of forming a coalition government with the Pakistan Peoples Party, Muttahida Qaumi Movement or Awami National Party in case he does not get a simple majority in the election. "Let the election results come and then we will decide how to deal with national problems," Sharif said. He said that if he does not get simple majority he would be very disappointed.

When asked about the money laundering allegations made by PPP leader Rehman Malik on Monday he said, "Malik is an established lair."
Mir repeated his question. "If Malik is a lair will you file a defamation case against him?" Sharif did not commit on filing a defamation case against the former interior minister.

He also avoided a question about the telephonic conversation recorded between former judge Malik Qayyum and former Punjab chief minister Shahbaz Sharif. An advertisement being aired on Pakistan television channels showed Shabaz Sharif talking to Qayyum about relaxation in legal affairs.

While answering a question regarding former president Pervez Musharraf's trial on high treason charges, Sharif claimed that his government would strictly abide by the Supreme Court's directives in this regard.
"Taliban's offer for negotiations made to Pakistan's government a couple of months ago should be considered seriously," he maintained. "I still believe that there is no harm in considering it. Both the political and military leadership should sit together to forge a way out in this regard. We need peace at any cost and I don't see any problem in considering Taliban's offer."

Sharif dispelled the impression that he is pro Taliban. Responding to a question he said that peace can be brought only through talks and if he comes into power he will try to start talks with the Tehrik-e-Taliban within the constitution of Pakistan

Sharif's response to Imran Khan's repeated challenge for a TV debate was quite blunt. "Do you expect me to have a TV debate with a person who ridicules me in public and claims that he will thrash us with his bat, his electoral symbol. This is simply ridiculous," he said.
The PML-N chief has high hopes in the youth. "My party will get an unflinching support from the younger lot in the elections."