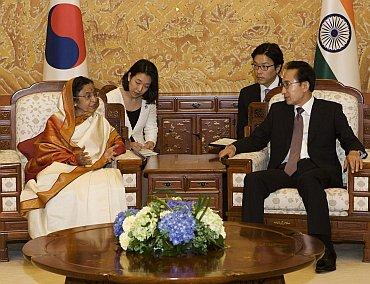 India on Monday signed a civil nuclear cooperation deal with South Korea, allowing a framework for Korean companies to participate in atomic power plant projects in the country.
The agreement was signed after a meeting between President Pratibha Patil with her South Korean counterpart Lee Myung-Bak. South Korea has become the ninth country which had signed nuclear agreement with India after it got the waiver from the Nuclear Suppliers' Group in 2008.
The others are the United States, France, Russia, Canada, Mongolia, Kazakhstan, Argentina and Namibia, an official said.
South Korea operates 20 nuclear plants that generate some 35 per cent of its electricity needs, and is keen to export its technology to fast developing  countries like India.
"The two countries have just concluded and signed a bilateral agreement on cooperation in the peaceful uses of nuclear energy," said Sanjay Singh, Secretary (East), Ministry of External Affairs.
"It is like other civil nuclear agreements signed between India and other countries. We look forward to Republic of Korea for becoming one more partner in the development of civil nuclear energy in India," the official said without divulging further details on the agreement and its mandate but termed the deal as a "win-win" for both the nations.
Both India and South Korea decided to start talks on civil nuclear cooperation during a meeting between Prime Minister Manmohan Singh and South Korean President Lee on the sidelines of the Association of Southeast Asian Nations Summit in Hanoi in October last year.
The nuclear agreement was signed by Dr Srikumar Banerjee, secretary, Department of Atomic Energy and Kim Sung Hwan, foreign minister of the Republic of Korea.
Earlier, Patil and her South Korean counterpart Lee held a 20-minute restrictive meeting followed by a delegation level talks for over an hour at 'Blue House', official residence of Korean President.
Patil is on a week-long tour of Korea and Mongolia.
Besides the agreement on nuclear cooperation, the two sides also signed a Memorandum of Understanding on media exchanges and another agreement on administrative arrangements to provide social security to people working in India and Korea.
The MoU on media was signed by Singh and Choung Byoung-gug, minister for Culture, Sports and Tourism.
The third agreement for administrative arrangements for social security was signed by Skand Ranjan Tayal, Ambassador of India to South Korea and Chin Soo Hea, Minister of Health and Welfare.
Briefing the media on the deliberations between the two Presidents, Singh said both the countries also discussed the expansion of defence cooperation.
"Increased naval and coast guard cooperation was a possibility that was touched upon in the discussions. They deliberated on issues pertaining to co-production of defence equipment, transfer of technology and joint Research and Development," the Secretary said.
"They also discussed the possibilities of cooperation in the peaceful uses of outer space. India looks forward to once again launching Korean satellites on Indian rockets," Singh quoting Patil as saying to the President Lee, adding that "our facilities are of high quality and are available at competitive price."
Image: President Pratibha Devisingh Patil in meeting with the President of Korea, Lee Myung-bak, in Seoul, Korea
Photograph: PIB