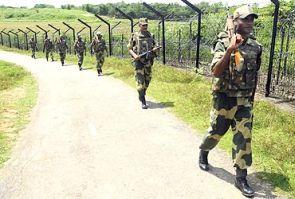 India has assured it has no plans to fly drone or unmanned aerial vehicles over frontiers with Bangladesh as the two countries discussed measures to contain trans-border crimes and increase coordinated patrolling to curb movement of insurgents across the boundary.
"We neither have any plans, nor do we have any plans in the future to deploy any drones or any such thing," Border Security Force chief Subhash Joshi said at the end of a six-day director-general level talks.
Addressing a joint press conference with Border Guard Bangladesh chief Major General Aziz Ahmed, the BSF chief refuted earlier media reports that the BSF plans to fly the drones or the UAVs over Bangladesh frontiers.
"We immediately sent clarification through the media. The BGB director general had also clarified...I think that should clarify whatever misgivings anybody may have," Joshi, whose force guards two crucial frontiers of Bangladesh and Pakistan, said.
Bangladesh had earlier sought a clarification from India on reports in Indian and Bangladeshi media that the BSF would soon deploy the UAVs along the border with Pakistan and Bangladesh to maintain heightened vigil against cross-border intrusions.
During the talks, the two sides discussed various measures to curb trans-border crimes and agreed to increase coordinated patrolling on the border to prevent movement of criminals, smugglers and insurgents across the international boundary.
The BGB and BSF issued a joint statement saying, after deliberate discussion on the specified agendas, the conference agreed that "incidents of deaths and loss of life on the border are extremely unfortunate and regrettable" as the two sides raised deep concerns over casualties of both the nationals.
Agreements were also reached to take all possible measures to bring down the death toll further and put in place mechanisms which greatly reduced the scope for such incidents and strengthened mutual trust and goodwill among the two border forces, the statement said.
"The number of such incidents has steadily come down in the last few years," it added.
"On security-related issues, both sides reiterated their commitment to continue mutual cooperation and decided to adopt multiple channels of communication between the commanders at the root level for quick and timely decisions in case of incidents in the border," the statement read.
To prevent smuggling of fake notes/drugs/narcotics, including Phensedyl, both sides agreed to continue close cooperation, including sharing of intelligence and interrogation reports on traffickers' details, forward and backward links, and follow up of trials in this regard," the statement said.