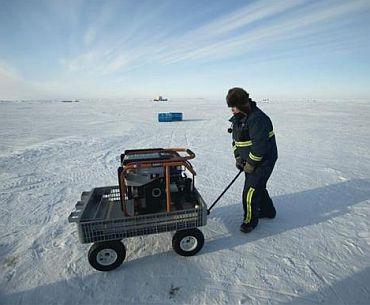 In a boost to India's bid for a strong foothold in the resource-rich Arctic region, the Arctic Council on Wednesday expanded to include six new nations, including India, as observer states. The inclusion of observer states to the council came after an intense debate at the council's biennial meeting here where United States Secretary of State John Kerry also spoke.
With the Arctic ice melting, the region's abundant oil, gas and minerals deposits have become accessible and have shortened the shipping routes, setting off a global race for influence and economic opportunities far beyond the nations that border the Arctic.
"Welcome China, India, Italy, Japan, Republic of Korea and Singapore as new Observer States, and take note of the adoption by Senior Arctic Officials of an Observer manual to guide the Council's subsidiary bodies in relation to meeting logistics and the roles played by Observers," the Kiruna Declaration said.
The council includes the eight Arctic nations: Canada, Denmark, Finland, Iceland, Norway, Russia, Sweden and the United States. Officials estimate the Arctic holds 13 per cent of the world's undiscovered oil reserves, and 30 per cent of undiscovered gas deposits.
Ministers pointed out that with the inclusion of the energy-hungry nations at the Arctic Council will force them to uphold the panel's core goals of safeguarding the region.
"There is no such thing as a free lunch," said Norwegian Foreign Minister Espen Barth Eide. "By becoming an observer you're also signing up to the principles embodied by this organisation, and that is why we have been working hard to make that happen," he said.
However, following dissent from Canada, a decision on the EU's application has been deferred. The permanent observers have no decision making powers.
The opening up of the Arctic to shipping and oil and gas exploitation has fuelled worldwide interest in the region. The Arctic Council was set up in the 1990s and has been mainly concerned with environmental matters including climate change and pollution, both of which are being felt more heavily in the Northern regions.
It has limited powers, issuing non binding protocols on member states -- but as the ice recedes and the wider exploitation of the region becomes possible, the rest of world has taken notice and wants to be involved.
Already six European countries are permanent observers. Now the council has accepted some of the world's most important emerging powers into what has been dubbed the "coldrush club", a name that reflects the opportunities many see for the exploitation of oil and gas resources in the region, BBC reported.
The meeting in Kiruna, Sweden also agreed on a new manual that will govern the activities and roles of the observers. They will not be able to directly raise issues but will have to bring them forward through one of the eight core members.