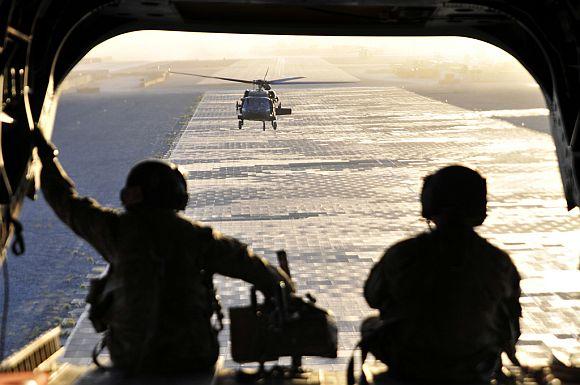 India, China and Russia on Thursday agreed Afghanistan's stability and security are important to the region against the backdrop of the United States plan to remove its troops from the war-torn country, raising fears of the reemergence of Taliban and other al-Qaeda linked elements.
The trilateral meeting of the three major emerging powers in the region followed the first India-China dialogue on Afghanistan held here last year to discuss mutual concerns and ideas to address problems emanating from US troop withdrawal.
"The three sides exchanged views on the situation in Afghanistan and agreed that security in Afghanistan is important to the country and the region," officials said about the talks.
"They reiterated support for a strong, united, stable, peaceful and prosperous Afghanistan. They also agreed to meet again," they said. Deputy National Security Advisor Nehchal Sandhu led the Indian delegation at the talks, chaired by Chinese Vice
Foreign Minister Liu Zhenmin and attended by Deputy Secretary of the Security Council of the Russian Federation Yevgeny Lukyanov.
Like India, China, too, is concerned over the reemergence of al Qaeda and its likely impact on Muslim Uygur majority Xinjiang province, that borders Afghanistan and Pakistan-Occupied-Kashmir.
China is battling a major separatist movement led by the East Trukistan Islamic Movement, an al Qaeda affiliate group, in the province.
China, which looks to play a major role in Afghanistan after the withdrawal of US troops, has invested in mines as well as infrastructure development there. Replying to a question on the meeting, Chinese Foreign Ministry Spokesperson Hong Lei said, "The development of situation in Afghanistan is closely related to the peace and stability in the region".
"China is ready to work together with all relevant parties to take part in the peaceful reconstruction and reconciliation in Afghanistan, so as to jointly maintain peace and stability," Hong said.