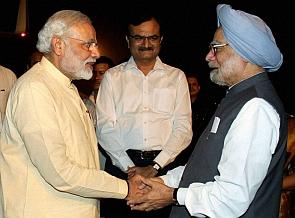 According to a source in the Prime Minister's Office, PM-designate Narendra Modi will hold a one-on-one meeting with outgoing prime minister Dr Manmohan Singh.
Modi's meeting with Dr Singh, totally unexpected and unique in all respects, is likely to take place after his swearing-in ceremony, and before his bilateral meeting with visiting Pakistan Prime Minister Nawaz Sharif on Tuesday.
What is important is that once Modi takes over as PM, the protocol is that a former PM will have to drive down to meet him. But, since Dr Singh has been in office for 10 years and is much older than Modi, in all likelihood it will be the latter who will call on Dr Singh.
Both the dignitaries will talk about Pakistan and other countries of the neighbourhood, besides exchanging pleasantries. After all, who knows better about Pakistan and other SAARC countries than Dr Singh?
Their meeting will be watched avidly since Modi had run a bitter election campaign against Dr Singh, his government and his party.
At the same time, Modi's touching gesture will establish him as a leader who shows he remains humble in the finest moment of life.