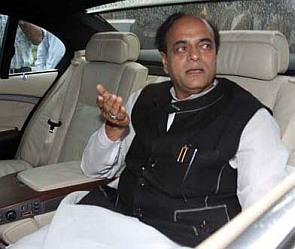 Indian Mujahideen operative Sultan Ahmed Faizan worked with the Samajwadi Party leader in 1985 in a travel agency. Vicky Nanjappa reports
Links of Indian Mujahideen operative Faizan Ahmad Sultan alias Faizan Azmi can be traced to Samjwadi Party leader Abu Azmi, the National Investigation Agency revealed after his interrogation.
Faizan, who was arrested on Friday after he arrived at the Delhi airport and cleared immigration, is now in the NIA custody.
Faizan worked with Abu Azmi in 1985, when the SP leader ran a travel agency. According to the Intelligence Bureau, the duo knew each other well since they both hailed from Azamgarh, Uttar Pradesh.
However, IB sources tell rediff.com that they are not sure whether the two were in touch after Faizan joined the IM. "It could just be a coincidence that Faizan worked with Azmi. However, we will probe this angle further to find out if the IM's deadly module in Azamgarh received any political support," IB officials said.
Faizan also sheltered the IM terrorists in the Batla House case.
Faizan, who fled the country after the 2008 Delhi blasts, operated from Dubai and Sharjah. In Dubai, he set up a dry cleaning business as a cover up. The establishment sheltered several IM operatives who escaped from India. Salman alias Chotu, Dr Shanawaz were among the key IM operatives who worked for Faizan.
Faizan also used his business to raise terror funds and then pumped the money into India. He controlled the Dubai operations of the IM, the NIA said.

Image: Samajwadi Party's Mumbai leader Abu Azmi