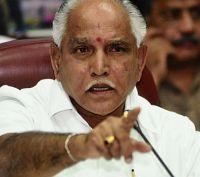 Former Karnataka Chief Minister B S Yeddyurappa has made it clearer that he is no longer a part of the Bharatiya Janata Party.
The influential Lingayat leader said this while announcing that he would float his new party on December 10.
He was speaking to mediapersons outside his office in Bangalore after conducting prayers. When asked about the developments in the BJP, he bluntly said, "I am not going to speak about the BJP because I am not a part of the party anymore. I am not in the party, hence I won't speak about anything relating to the party. I will float my new party on December 10th."

Yeddyurappa, who has been sulking ever since he was forced to step down as chief minister, has not only staged many coups in the party, but has also indicated that he would be quitting the party.
A fortnight back, he hinted that he would go away from the party which has not lived up to its promises. He has been dropping many hints and also refused to meet with senior leaders when they had come down to Bangalore to speak with him.
Image: B S Yeddyurappa