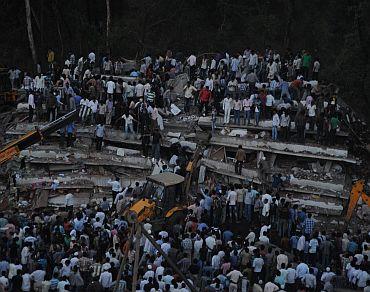 At least 10 persons, including a pregnant woman, were killed and 56 others injured when an under-construction building collapsed in Shil Phata area of Thane on Thursday evening, police said.
A massive rescue operation was underway, and by late night, ten bodies had been recovered from the debris. The victims were yet to be identified, officials said.
The seven-storey building in Shil Dhaigar locality was unauthorised, civic officials said, adding that it was occupied at least up to the fourth floor. The incident took place at around 6.30 pm.
Municipal Commissioner R A Rajeev and District Collector P Velarasu were supervising the relief operations.
The injured have been shifted to various hospitals in the city.