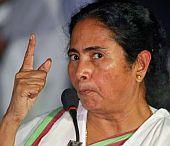 After drawing flak for suggesting that security personnel should be whipped, West Bengal Chief Minister Mamata Banerjee once again lost her cool, threatening to slap photo-journalists.
The latest tongue lashing from the leader came while inaugurating a festival in Burdwan district
"I will slap you, you uncivilised people. Don't you see it's cooking here?" she snapped at photographers jostling for space while photographing her at the "Mati Utsav" (Earth Festival) in Panagarh town on Saturday, when she was going around the venue.
The footage went viral on TV channels on Sunday.
Mamata had been criticsed for shouting at security personnel in the Kolkata Book Fair on February 6 and saying she would 'whip' them for making her wait for her car.