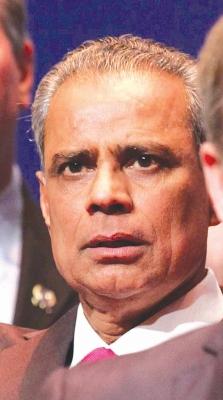 New Jersey State Assemblyman Upendra Chivukula may have triumphed over his opponents in a Democratic Party debate last week, but his campaign for a House of Representatives seat is caught in a controversy. Arthur J Pais reports
For several weeks, supporters of the 64-year-old left-leaning Democrat have been whispering of opposition to him by a few powerful New Jersey Democrats, suggesting that racism was the basis for the opposition.
Now Chivukula, who was hesitant to speak on the issue, told the media that Middlesex County Democratic Chairman Kevin McCabe threatened him that he could hurt his political future if he ran for US Representative Rush Holt's House seat this year. He also wondered if it would have happened to a white politician.
Some of his supporters in the Indian-American community said if such a thing could happen in a state such as New Jersey, which has a large South Asian population, there could be worse things happening for Indian American candidates in other states where minorities are not in significant numbers.
"This is blackmail," an Indian-American Democrat said, speaking on conditions of anonymity. "He has served the party for over a decade and he has even served the state as deputy speaker," he added.

Chivukula said just after Holt announced his retirement, he reached out to McCabe about seeking his party's support. But he was already set on state Senator Linda Greenstein as his party's favoured candidate.
Chivukula said he was told that if he launched a campaign and failed, he wouldn't get the party ticket for the next assembly election from MiddlesexCounty which has large Indian population.
"My question is, would he have made such a claim to a Caucasian American elected official? That is quite uncouth on his part, not even having a face-to-face conversation," he added.
McCabe has denied making the threatening statement.
Chivukula told the local media McCabe's threat did not scare him. "I told him, 'You keep it, because I am going to win this year','' he said.
"Seen as a long shot in a Democratic primary by insiders in a district where he landed just one of four county Democratic organisation lines, Chivukula nonetheless showed the most cash-on-hand in his last Federal Election Commission filing: $184,490,' wrote a local newspaper. "Compared with Assemblywoman Bonnie Watson Coleman's (D-15) $103,979; Assemblywoman Linda Greenstein's (D-14) $87,337; and physicist Andrew Wicker's $3,914."
MiddlesexCounty has hundreds of Indian families, but Chivukula who proudly proclaims his Indian heritage and his American success story is also telling hundreds of households his Indian narrative. He is married to a Cuban immigrant.
His campaign asserts, "He's lived the American Dream... arriving from India with $8 in his pocket almost 40 years ago, Upendra worked hard to build a life any American would be proud of. Now he's fighting to make that dream a reality for every American family.
In 2012, he ran for Congress against Tea Party Republican incumbent US Representative Leonard Lance for the House and was defeated with a vote of 175,662 to 123,057.
Image: New Jersey State Assemblyman Upendra Chivukula