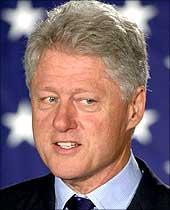 Opening up about his affair with White House intern Monica Lewinsky, former United States President Bill Clinton has said that he felt sorry for himself, and he had 'cracked' under pressure during that period.
"I cracked; I just cracked," Clinton revealed in an oral history of his presidency -- based on 79 taped interviews with historian Taylor Branch during his late-night visits to the White House, 'The Times' reported.
The former US President said he had cracked under the pressure of personal and political setbacks, including the death of his mother and the loss of Congress to the Republicans in 1994.
Clinton was at first reluctant to talk about the Lewinsky affair because he feared that the tapes might be subject to subpoena and exposure and used against him.
Yet, in August 1999 -- six months after he survived the Senate impeachment trial -- Clinton opened up, according to Branch, who has turned the tapes into a 707-page book 'The Clinton Tapes: Wrestling History With the President'.
Clinton also revealed that on a visit to Washington, former Russian President Boris Yeltsin got so drunk that he was spotted standing outside the White House 'in his underpants', trying to hail a taxi so he could go out for a pizza.
Clinton has also confided that the following night in 1995, a guard mistook Yeltsin for an intruder after the former Russian President was discovered stumbling drunkenly in the basement of the official visitor's residence at Blair's house.
The next day, a drunk Yeltsin managed to give Secret Service the slip. Frantically looking for him, they found him in his underwear on Pennsylvania Avenue trying to get a taxi. He explained in slurred words that he wanted a pizza.