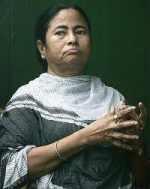 West Bengal Chief Minister Mamata Banerjee on Tuesday accused a section of the media of distorting her statement and clarified that she did not say that she would 'beat' the PM.
"A section of media is constantly distorting my words for their own vested interests. Yesterday I didn't say that I will beat PM," Banerjee said.
"What I said is that 'I had have met the PM ten times on the issue of fertilizer price hike. I cannot do more than this. Shall I go and beat (him up)'," she said.
"This is what I said and a section of media is saying that I have said that I will beat PM, this is totally distorted and baseless," Banerjee said.
On Monday, Union Minister of state for Urban Development Deepa Dasmunsi had demanded that the chief minister apologise for using 'undemocratic language' against Prime Minister Manmohan Singh.
Banerjee said, "Suppose I say 'I am rice, and I am eating rice'. Is the meaning of both statements same? I request the media not to spread misinformation and misguide the people."
She said, "In a democracy, I can meet the prime minister and talk to him, but I cannot beat him up. What wrong have I said?"