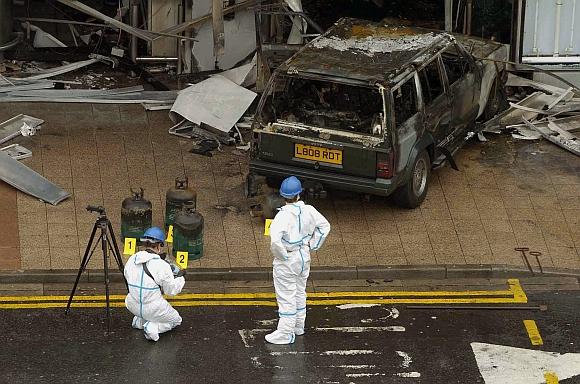 A section of the media referred to Dr Sabeel Ahmed, brother of the Glasgow Bomber (Kafeel Ahmed) as the 'motu doctor', alleged to be involved in the plot to kill prominent Hindus leaders across the country. The man himself now informs that this is far from true. Read the letter below:
I have been working in Saudi Arabia as a doctor since 2008. I am deeply distressed and shocked to see my name crop up in a case that has been under investigation from sometime in 2012. The accusation is that police are fairly sure that a certain 'motu doctor' is none other than me.
Firstly, no one, and I emphasise, no one has ever referred to me as 'motu doctor'. The news articles have been falsely claiming that during the trauma that I underwent in the United Kingdom. Some journalists have interviewed some persons who used to refer to me as 'motu'.
This was never the case. Thus, the whole story of me being the 'motu doctor' is a deliberate move to defame me and unnecessarily sully my name.
I emphatically state that I am completely unaware about anything connected to the Bangalore conspiracy case. I learnt about the existence of such a plot only when it appeared in the news in the Indian media.
I state with all the power at my disposal that I did not know about any involvement of any of the accused persons named in the case. Dr Imran who has been arrested on the November 29, 2013, was married to my sister.
However the marriage ended in a divorce within a few months. I was not in contact with Imran and our relationship has been strained after the divorce.
The persons who the police claim were the target of the assassination are complete strangers to me whose names I have never heard. It is also funny, because I can neither read not write Kannada and have never been informed about the works of any journalist whom I would want to harm.
This is totally absurd. Even beyond the absurd are the other names that have come up from Hyderabad a city to which I never travelled since my return from UK, in 2008. Now why would I have any reason to be a part of something that doesn't concern me, or has affected me in any way?
I am given to understand that the allegation against me is that I have been part of some meetings held in Riyadh and Dammam, where these plots were hatched. I categorically deny having attended any such meetings in any of the two cities.
I am also given to understand that I am accused of financing and giving logistical support to the plot. It is ridiculous for several reasons.
I have never had any excess finances to distribute it to people without having knowledge of what is done with the money. I emphasise that I have never paid any money that could have been used to carry out the alleged plot. As for the logistics, I don't know how I can contribute to the logistics of something whose very existence was and is not known to me.
Some sections of the media have in the past painted its own picture criminalising my name and identity. They have concocted facts and made up stories to put across a picture of me that is far from the truth.
When I underwent the trauma in the United Kingdom, there was such a large volume of coverage of my identity as a criminal in the various forms of media that it just wasn't possible for me to counter that view of myself; to such an extent that many of my friends and relatives have accepted that view.
The media seldom mentions facts which shed a different light to my character. One simple example is the fact that it was mentioned in the judgment in the UK, which categorically stated that I was not even of an extremist mentality.
I am seriously contemplating legal action against newspapers which have published false and concocted stories against me.
In the months that I returned back from the UK, there was so much apprehension I perceived from people, I decided to only interact with people who seemed comfortable with me. At no point did I force any interaction with anyone, even if there was a hint of resentment.
I have lost many of my old friends, relatives and acquaintances.
I request you all to please be fair and impartial in your reporting and please confirm from me in case you have any doubts. I reiterate that the police have neither asked me any questions nor have I been summoned at any point of time in this case.
I have complete faith that the police is fully aware that I have nothing to do with this case.
Image: Forensic officers examine the scene of attack on the terminal building at Glasgow Airport Glasgow Scotland
Photographs: Mark Runnacles/Reuters