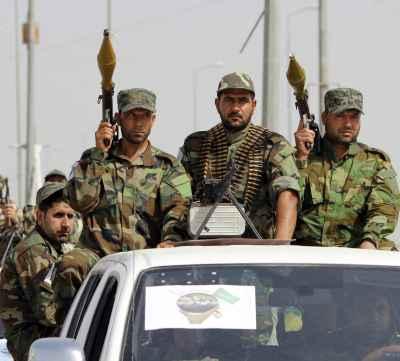 Efforts continued on Saturday to secure the release of the 39 kidnapped Indians in Mosul town of strife-torn Iraq with the government remaining in touch with the countries in the region to resolve the crisis after identity of the captors were known.
Government said all the Indians in captivity were "unharmed" and it was "fully engaged" and "every possible effort" was being made to ensure their release.
As efforts were on to rescue all the Indians from the troubled areas in Iraq, Amnesty International claimed that hundreds of Indian nationals may be stranded in Najaf province.
The human rights watchdog claimed it had spoken over the phone with some Indian workers working for an infrastructure and construction company who said they were in danger as their employers had "refused to return their passports", thus rendering them unable to leave the Gulf country.
"Evidence has emerged which suggests that several hundred Indian nationals may be stranded in Najaf province of Iraq, unable to return home because their employer refuses to return their passports," Amnesty International India said in a statement.
Official sources here said the Indian mission in Baghdad has already contacted the company concerned and the matter is likely to be resolved soon.
"We have contacted the company concerned. The companies are already responsive. We are already working with them. They will have these people come across. There will be somebody from embassy who goes there, will sit down with the company and all the employees and decide on this," they said.
They also said India remained in contact with a number of countries in the region besides Iraqi authorities to resolve the crisis.The sources further said government has indication about the identity of the captors and it was in touch with International Red Crescent in Iraq.
"All the 39 Indians in captivity are unharmed as of today," External Affairs Ministry spokesperson Syed Akbaruddin said.
40 Indian construction workers were kidnapped from Mosul, Iraq's second largest city which was seized by Sunni militants, and one of them fled from the captors.
When asked about identity of the captors, the sources refused to divulge details citing operational issues and safety of the kidnapped Indians but added that they were kept with people from other nationalities.
The Indian who fled from the captivity was undergoing debriefing and was said to be in complete safety.
He is learnt to be in "friendly location" and no ransom demand has been received so far.
The sources said 16 Indians who were evacuated from violence-affected areas of Iraq have returned to India.
The government is in constant touch with the 46 nurses stranded in Tikrit town, which was also taken over by Sunni militants. Areas like Basra, Najaf and Kurdish-dominated areas are not witnessing violence.
Meanwhile, around 28 Indians working in a company in Najaf, which is not affected by violence, have also expressed their desire to return to India and government was helping them. A total of 1,000 Indians are working in the company.
Another lot of 49 Indian employees of a power sector company in Northern Iraq conveyed to Indian mission that they want to return to India and government was also in touch with the company.
The Indian mission is looking into issues like possible contractual disputes between Indians and their employers and sort out such disputes to ensure their return.
On Friday night, six persons from Punjab's Gurdaspur district who were stranded in Iraq, returned home safely.
With nearly 200 people from Punjab stranded in that country, the state government has decided to bear the expenses for bringing them back safely and also reimburse the expenses incurred by distressed families for making phone calls to Iraq, an official spokesman said in Chandigarh.
Amnesty International India claimed that some of the Indians stranded in Najaf province were "awaiting a response from the Indian embassy in Baghdad" after they texted their passport details to them on June 19.
"The employer holds all our passports and refuses to return them. We have been restricting ourselves to the company premises since the conflict began as we are scared. We just want to go home," one of the workers reportedly told Amnesty International India.
The government was also in touch with various humanitarian agencies, the UN Assistance Mission in Iraq and Iraqi government to gather more information about its citizens.
Iraq is witnessing serious strife with Sunni militants, backed by Al Qaeda, capturing two key cities and marching towards Baghdad. Hundreds of thousands of Iraqis have been displaced in the fighting that broke out on June 10.
The government has also decided to provide financial assistance through Indian Community Welfare Fund to those Indians who are indigent and want to return to India.
India has also requested Iraq to lift restriction on the visa norm that if a person comes to the country through a port of entry then he will have to go back though the same port of entry.
The issue has been taken up with Iraqi authorities so that trapped Indians can cross Iraqi border to neighbouring countries through nearest land boundary.
Instructions have also been issued to Indian missions in countries around Iraq to take up the matter with their host governments to facilitate movement by those who wish to cross the land boundary from nearest place of their stay. PTI
The kidnapped Indian, who had managed to flee from captivity, is from Punjab, sources said.
The person has given some information about the abductors to the Indian authorities, they added.
Image: Shia fighters, who are assisting the Iraqi army to counter the ISIS threat, take part during a parade in Basra
Photograph: Reuters