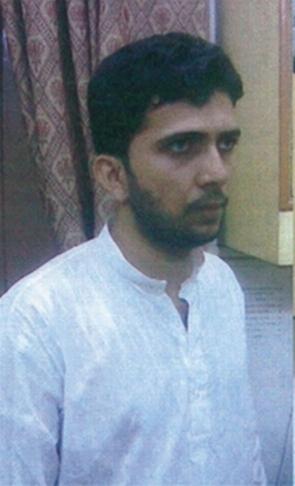 The Bangalore police, which interrogated the chief of Indian Mujahideen, Yasin Bhatkal, for two days recently, found him a tough customer who'd make the most unexpected demands of them. Vicky Nanjappa reports.
If you want me to speak, then get me a masala dosa and a bowl of musk melon."
May sound funny, but this is exactly what Yasin Bhatkal kept demanding from the Bangalore police every time he was about to be questioned about his role in the various incidents of terrorism that he was alleged to be involved in.
Without a doubt the Bangalore police, which interrogated the chief of Indian Mujahideen, had a torrid time in getting him to speak. Uncooperative, demanding and casual is how some would describe him as. Bhatkal was in Bangalore for questioning for a couple of days before he was taken back to New Delhi.
In this brief period the Bangalore police sought to know a lot from him, and interrogating him was even more important because he belongs to Karnataka and is said to have started his journey into the world of terror from the state.
Sources say it was probably one of the most peculiar interrogations they may conducted in a while. Yasin was extremely moody and spoke only when he felt like. Considering there was a lot of information riding on him, the police had to handle him very carefully.
Several times, when they sought to seek answers from him, he often began with, "I am hungry. Go get me a bowl of musk melon and a masala dosa and then I will talk."
While the police did indulge his demands, Yasin never gave out anything, really. There are still many unanswered questions and the police will need to conduct further investigation in order to find the answers.
For instance, the biggest question regarding the sourcing of ammonium nitrate remains unanswered. Four years back it was the police's claim that Yasin had personally supervised the transportation of two lorries of ammonium nitrate from Udupi in Karnataka. While he confirms that, the police got nothing on where he sourced it from.
Further, he also did not add anything more about his trips to Chickmagalur in Karnataka prior to the Chinnaswamy stadium blasts.
The biggest problem the police encountered was the number of times he misguided them during the interrogation. For everything they asked he kept saying 'yes'. All he said was, 'If I say no will you believe me? Hence it is better for me to say yes to everything, it is your job now to prove it before the court.'
In this entire episode he misguided the police on two occasions. He said there was a plan to hijack a plane, which led to a nation-wide alert being sounded. After this he said he had plans to bomb the Karnataka high court.
After a round of investigation when the police got back to him and asked him for more details all he said was, 'I don't know, the plan may have changed. How would I know, I am sitting here with you in prison.'