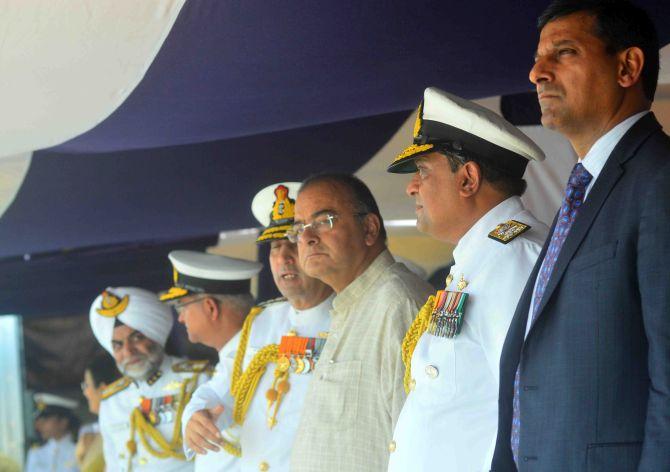 The armed forces are quite happy with the attention paid to their concerns, reports R S Chauhan.
Finance Minister Arun Jaitley has been kind to Defence Minister Arun Jaitley. He has upped the defence budget to Rs 2,29,000 crore, a jump of Rs 5,000 crores from the interim budget presented in February this year.
Although not substantial, given the precarious economic condition of the government, the three armed forces are happy that they have received this extra allocation which will mainly go into buying new equipment this financial year.
India's 1.5 million strong armed forces require huge sums of money for their upkeep, pay and pension. Nearly 60 per cent of the defence budget is earmarked for the revenue head that covers these expenses. It is no different in Jaitley's budget.
By giving an additional Rs 4,000 crore for new acquisitions and Rs 1000 crore for building new, strategic railway lines meant mainly for the use of the Army and the Air Force along the China frontier, the defence minister has allowed the three services to make payment for their new purchases already contracted. The capital budget for all the three services now stands at Rs 93,000 crores plus.
The sum allotted may not allow the IAF to sign the much awaited MMRCA contract to buy 126 combat jets this financial year, but it can still go ahead and conclude the deals for Apache and Chinook helicopters from the United States. In any case, IAF sources point out, in case the technical negotiations to but the 126 Rafale jets from the French company Dassault Aviation do get finalised, the government will be able to find additional resources as and when required.
The finance minister's speech had two feel-good factors.
One, for the first time, he has earmarked Rs 100 crores for building a national war memorial at Princess Park in the heart of Delhi, very near the iconic India Gate. A war memorial for soldiers who sacrificed their lives since 1947 has been a long standing demand. With this allocation of funds, the NDA government is fulfilling one if its major promises to defence veterans.
In another major decision, the earmarking of additional Rs 1000 crore for implementation of the one-rank one-pension scheme is seen as a significant step forward.
In another departure from past policy, Jaitley has raised the cap on foreign direct investment in defence production to 49 per cent from the earlier 26 per cent. Although it does not meet the expectations, it's a start after an obdurate AK Antony, India's longest serving defence minister, had steadfastly refused to allow any change in FDI policy. And yet, raising the limit on FDI may not bring about immediate results.